Global Positioning Systems (GPS)
Record Breaking Raymarine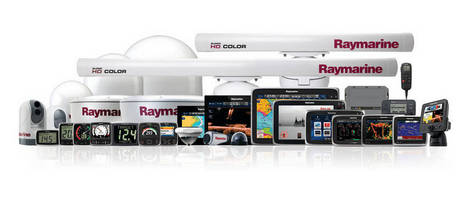 Raymarine, leading marine electronics manufacturer, has made history this week following an announcement that it is the first company to ever receive four METS DAME Award nominations.



Considered to be the most prestigious design competition for new marine equipment and accessories in the world, the DAME Awards recognise excellence and innovation in design. From the 115 products entered for this year's competition, 52 products from 12 countries were nominated to go forward for final judging, including all 4 of Raymarine's entries.



Commenting on the Awards, Irene Dros, Domain Manager, METS, said, "Hats off to Raymarine, 4 nominations is a record in DAME history. The METS Design Award has been encouraging the use of design in innovation for over 20 years and we are very proud to underline the impressive and innovative pace of Raymarine in this tough competition."



The four ground-breaking products nominated are the high-performance stand-alone Dragonfly™ Sonar/GPS with CHIRP DownVision™, the new Evolution autopilot, the ECI-100 Universal Engine and Control Interface, and the CP100 Sonar module with CHIRP DownVision™. All entered in the marine electronics and related software category, the products will be judged on many aspects from function to aesthetics and from packaging to end product.



Grégoire Outters, Raymarine's General Manager, said, "The fast pace of technology innovation and migration means that it's an exciting time in new product introduction for Raymarine.  We're extremely proud to see our four entries for the DAME award reach the shortlisting stage and we're looking forward to showing our DAME-nominated products at METS."



For more information about Raymarine and its products please go to www.raymarine.com.



About Raymarine:

Raymarine, leading marine electronics manufacturer, develops and manufactures the most comprehensive range of electronic equipment for the recreational boating and light commercial marine markets. Designed for high performance and ease of use, the award-winning products are available through a global network of dealers and distributors.



The Raymarine product lines include radar, autopilots, GPS, instruments, fishfinders, communications, and integrated systems. Headquartered in Fareham UK, Raymarine is a division of FLIR Systems, a world leader in thermal imaging. For more information about Raymarine please go to www.raymarine.com.



About FLIR Systems:

Pioneers in all aspects of infrared technology, FLIR designs, manufactures, and supports thermal imaging systems and subsystems for industrial, scientific, government, commercial, and firefighting applications. With almost 50 years of history in infrared innovation, over 100,000 systems in use worldwide, and development centres and sales offices in over 60 countries, FLIR is the world leader in thermal imaging technology. Visit the company's website at www.FLIR.com.   



More from Services