RCM Heating & Cooling Awards YORK® HVAC System to U.S. Military Veteran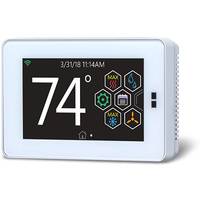 New Lenox-based contractor and Johnson Controls partner to honor Vietnam War veteran
MILWAUKEE – (August 23, 2018) – The YORK® brand of Johnson Controls has partnered with contractor, RCM Heating & Cooling, to award a new HVAC system to celebrated Vietnam veteran, U.S. Army Specialist, Abraham Gomez.
SPC Gomez was honored during a military and first responder tribute at the 34th annual "Proud American Days," a community festival held in New Lenox, IL.
"We are honored to contribute our services to the home of Army Specialist, Abraham Gomez. It's a small token of the enormous amount of thanks he deserves for proudly serving his country," said Bill Ward, owner, RCM Heating & Cooling.
RCM Heating & Cooling will install a YORK® Affinity™ Series heating and air conditioning system. The premium system will be matched with an Alexa® compatible, Wi-Fi®-enabled Affinity™ Hx3™ Touch-screen smart Thermostat. The combination offers top-of-the-line features including voice and remote system control and advanced energy savings.
Johnson Controls has been recognized by U.S. Veterans Magazine as a top veteran-friendly company. The company has pledged to hire 1,000 to 3,000 veterans and military spouses by 2020. The YORK brand of Johnson Controls is a leading sponsor of Building Homes for Heroes, a non-profit organization dedicated to gifting mortgage-free homes to severely wounded military veterans and their families. By the end of 2018, YORK plans to donate its products to over 100 military families through this partnership.
To learn more about RCM Heating & Cooling visit www.RCMHeating.com
About YORK® HVAC
YORK® products from Johnson Controls include energy-efficient, residential central air conditioners, heat pumps, furnaces and accessories marketed through a national distribution network of qualified York heating and cooling contractors. To learn more about YORK®, visit www.YORK.com and follow on YouTube, Instagram and Facebook @yorkhomecomfort and @YORKHVAC on Twitter.
About Johnson Controls
Johnson Controls is a global diversified technology and multi-industrial leader serving a wide range of customers in more than 150 countries. Our 120,000 employees create intelligent buildings, efficient energy solutions, integrated infrastructure and next generation transportation systems that work seamlessly together to deliver on the promise of smart cities and communities. For additional information, please visit http://www.johnsoncontrols.com and follow on Twitter @johnsoncontrols.
CONTACT: 
Ryan Nolan
Global Public Relations Program Manager
Building Technologies & Solutions, Johnson Controls
Work + 1 414 524 6170
Mobile + 1 414 378 9641