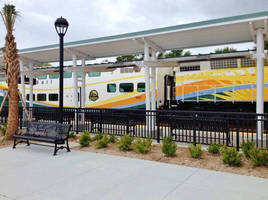 In April 2014, Leesburg Concrete Company, Incorporated (LCCI) completed the railing for Florida's new light rail project known as SunRail Phase I.  LCCI's metal fabrication shop is DOT certified.



SunRail  is a 61.5-mile commuter rail project in Central Florida. The first phase is 32-miles and will serve 12 stations, linking DeBary to Sand Lake Road; Phase II will serve 5 additional stations, north to DeLand and south to Poinciana.



Leesburg Concrete Company, Inc. has been producing ADA compliant rails for their precast concrete access system since 1989. Their on-site miscellaneous metals shop was cable of doing more and so in 2011 LCCI started to bid and build larger projects which included interior and exterior metal floor to floor stairs and other Division 5 products.  Leesburg Concrete knew SunRail was the right project for them.  They had everything in place to build the quality rail with custom coating which was required for this project. Once Phase 1 was completed, the contractor who was working on Phase 2 called Leesburg Concrete to request assistance in the completion and delivery of the rail for 5 stations as well. 



"Leesburg Concrete is proud of the railing that will be publicly seen and used here is Central Florida.  There are several stations with architectural rail which is pretty unique.' said Kirk Rouse, "it is great that as we expand we are connecting with the projects which showcase our capabilities."



Leesburg Concrete Company, Incorporated

Family owned and operated since 1983, Leesburg Concrete Company, Incorporated  was first a leading manufacturer of precast concrete steps decks, walkways, landings, and ADA compliant modular precast concrete wheelchair ramps, with steel guard rails, and handrails, as well as architectural precast cladding panels and precast concrete stairs. LCCI also offers a wide array of custom precast product options. "We Take Pride in exceeding our customer's expectations' stated Kirk Rouse, Vice President of LCCI. This American, family-owned company demonstrates a philosophy of quality and innovation.



Leesburg Concrete Company, Incorporated is focused on meeting the needs of commercial building construction and renovation projects. Their experienced staff provides turnkey service, and it only takes one call to find the solution to your building needs. For more information visit their website at www.leesburgconcrete.com, (800) 882-4177, or KRouse@leesburgconcrete.com.




More from Services