RÖHM Power-Operated Chucks Deliver Secure Holding for Gear Grinding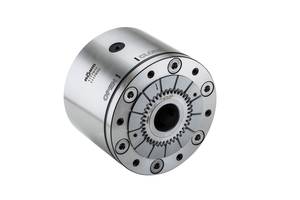 SUWANEE, Ga., Nov. 28, 2016 – RÖHM Products of America now offers a powered external clamping chuck for gear surface face grinding. The KZF-S collet chuck is especially well suited for clamping gears/workpieces that have an external plane or gear teeth geometries accessible from the outside. Additionally, the chuck allows face and ID diameters to be turned or ground concentric to outer gear pitch diameters.
The compact KZF-S chuck provides high clamping forces, optimal workpiece stability and maximum axial accuracy achieved via axial draw-in of the workpiece against a rigid work stop. The chuck maintains its centrifugal force for extremely smooth rotation of less than 0.01 mm.
KZF-S chucks have modular designs that feature case-hardened components for maximum versatility and low maintenance. The workholding system features a grommet for the integration of air or coolant and a sealed lubrication channel to eliminate chip penetration.
Available in three sizes, the KZF-S chucks accommodate diameters ranging from 30 mm to 180 mm. A simple bayonet connector enables users to quickly retrofit clamping sleeves to different diameters, and an intermediate adaptor with adjustment screws enables DIN55026 or optional A5-A8 mounting.
About RÖHM Products of America
Headquartered in Suwanee, Georgia, Röhm Products of America, a division of the RÖHM Group, has been a leading provider of high-quality clamping and gripping technologies to the North American metalworking industry since 1978. The company's broad and powerful product portfolio encompasses drill chucks, live centers, lathe chucks, vises, automation technology, power chuck technology, mandrels, tool clamping systems, and customized solutions for turning, milling, drilling, and grinding applications. The company also takes pride in providing world-class support and services to ensure trouble-free machining processes for its customers within the aerospace, automotive, energy, engineering, micro technology and rail vehicle manufacturing sectors. For more information, please visit www.rohm-products.com.
Beth Lawrence
Public Relations & Media Coordinator
dgs Marketing Engineers
317.813.1937
Direct
 317.813.2222
Main Website: www.dgsmarketing.com
About dgs Marketing Engineers
dgs Marketing Engineers is the leading business-to-business advertising agency for industrial manufacturers in North America. We help companies craft unique brand identities, sell complex products, and build lifetime customer relationships.
More from Sensors, Monitors & Transducers