RÖHM Features Advanced Workholding Technologies at PMTS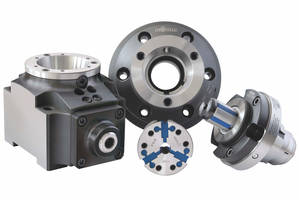 SUWANEE, Ga., March 31, 2017 – In booth 1231 at PMTS 2017, RÖHM Products of America will highlight a broad selection of its innovative workholding products that show the company's strength as a one-stop solutions provider. Featured technologies include the modular CAPTIS clamping system; the AGILIS, ABSIS and MZS mandrel part-clamping systems; quick-change jaw chucks; the RZM vise; efficient CoE workpiece face drivers; and power-operated KZF collet chucks along with a variety of collets. In addition to those workholding technologies, RÖHM will spotlight its F-senso spindle-pull-in force measuring device.
RÖHM's CAPTIS workpiece clamping system provides a wide range of holding options through different combinations of modular components. The system's innovative quick-change capability permits conversion from external to internal clamping in less than a minute, and collet changes take less than 15 seconds. Compatible with the industry standard BZI collet interface, the CAPTIS system produces strong clamping forces without deformation of delicate workpieces while offering high repeatability and minimal run-out.
The AGILIS power-operated cartridge mandrel clamping system provides consistent, rigid workpiece ID clamping of very small diameters for grinding, turning, milling, drilling and measuring applications. At PMTS, the AGILIS system will feature the available manual quick-change system that cuts the time needed to switch out clamping devices on the AGILIS. With quick-clamping screws, operators can complete manual clamping changes in approximately 30 seconds, all while maintaining positioning accuracy within 0.005 mm. The manual quick-change technology enables the use of central lubrication and airflow measurement devices, and RÖHM will demonstrate the mandrel's air-sensing capabilities at the show.
The compact, solid ABSIS power-operated segment mandrel clamps are well suited for high-precision machining. The mandrels independently secure workpieces against a rigid work stop for high repeatability as well as excellent axial and radial accuracy.
The manual MZS cartridge mandrel has a center hole for internal clamping in grinding, turning, milling and measuring applications. The lightweight mandrel's clamping sleeves are affixed with easy-to-change central tension screws.
RÖHM's quick-change jaw chucks feature special bayonet-style connections. Shops need only change an attachment system to switch clamping devices from one part-machining operation to the next.
With high positioned clamping jaws and its horizontal spindle situated at the top of the vise and closer to the jaws, the RZM vise provides exceptional workholding rigidity and strength and contributes significantly to higher accuracy 5-axis machining. The vise's jaws are shorter and complement its overall compact height of only 7.7" to keep interference to a minimum, while RÖHM's special double jaw-guidance system ensures precise positioning.
The high-accuracy modular CoE face driver enables workpieces to be turned along their whole length without re-chucking. A mechanical compensation system guarantees strong and consistent clamping forces on uniform as well as uneven workpiece faces.
RÖHM engineered its KZF power-operated collet chuck with a fast-action bayonet catch that significantly speeds collet changes. The chuck works with either conventional steel collets or segment collets, and is ideal for bar machining.
Fitted with adapters for HSK or steep taper shanks, RÖHM's F-senso device mounts into a machine tool's spindle and provides an exact measurement of its tool holding pull-in force for shops to detect changes in force before they affect machining quality. Force readings cover a range of 0 - 15 kN (3,370 lb).
About RÖHM Products of America
Headquartered in Suwanee, Georgia, Röhm Products of America, a division of the RÖHM Group, has been a leading provider of high-quality clamping and gripping technologies to the North American metalworking industry since 1978. The company's broad and powerful product portfolio encompasses drill chucks, live centers, lathe chucks, vises, automation technology, power chuck technology, mandrels, tool clamping systems, and customized solutions for turning, milling, drilling, and grinding applications. The company also takes pride in providing world-class support and services to ensure trouble-free machining processes for its customers within the aerospace and defense, automotive, energy, engineering, micro technology and rail vehicle manufacturing sectors. Röhm also holds International Traffic in Arms Regulations (ITAR) certification. For more information, please visit www.rohm-products.com.