R&M Materials Handling, Inc. Introduces NRGmaster, an Alternative to C-track Festoons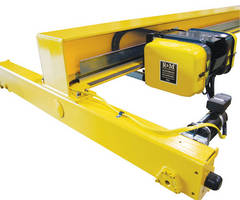 SPRINGFIELD, OH -- R&M Materials Handling, Inc. is pleased to introduce NRGmaster, a modern alternative to C-track festoons. The NRGmaster track system eliminates dangling cables and provides a sleek crane, inherently increasing hook coverage on the shop floor and decreasing common C-track festoon maintenance pitfalls. It comes standard with a radio control, allowing the operator to be free to move to the safest location, and a back-up pendant. Controlling your crane's energy system with NRGmaster is the best way to energize your crane.

For more information on the NRGmaster or R&M, contact R&M Materials Handling Inc., 4501 Gateway Boulevard, Springfield, OH, 45502. You may also visit www.rmhoist.com or call 1-800-955-9967.

More from Electrical Equipment & Systems