Quick Turn, NRE Free, Hermetic Implantable Feed-thrus and Endoscope Windows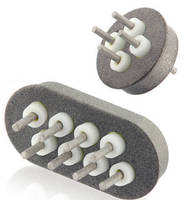 Design engineers working on implantable medical device or endoscope applications are often under increasing pressure to reduce both time-to-market and costs, without compromising quality or making performance tradeoffs.



Now, medical device manufacturers can more easily reach those goals by leveraging SOURIAU PAE's "standard line" of hermetic implantable feed-thrus and endoscope windows.



SOURIAU PAE has been manufacturing medical device components for 30+ years and in that time, the company has seen many common design parameters across both its implantable feed-thru and endoscope window product lines. The company's new standard product line encapsulates those design commonalities into a catalog of products that are ready to ship -- virtually eliminating multi-month lead times and NRE costs.



Hermetic Feed-Thrus for Implantable Devices



Examples of the New SOURIAU PA&E Standard Implantable Electrical Feed-thrus

These feed-thrus are well suited for a variety of implantable applications, including: cardiac devices, neuro-stimulators, cochlear implants and more. This new product line includes 7 feed-thru configuration options - 1, 2, 3, 4 or 8 pins in both circular and oval formats. They all feature:

- Titanium body construction

- 0.01325'' OD (0.39 amp) platinum/iridium pins

- SOURIAU PA&E's industry proven Kryoflex® ceramic- to-metal sealing technology.



Pin pitches are .050" with one .100" layout available and .070'' or .360'' pin extensions are options. These connectors are leak checked to < 1 x 10-9 cc/sec He at 1 atm differential pressure. For more technical specifications, download the catalog here.



Hermetic Endoscope Windows



SOURIAU PA&E's Hermetic Endoscope Windows Feature Direct Ceramic-To-Metal Seals, Eliminating Metallization and Solder



SOURIAU PA&E's standard medical window products are ideal for endoscope coupler/camera, video camera and surgical navigation system applications. They feature sapphire glass (4mm, 5.5mm, 7mm, 9mm, 10mm clear aperture options) direct sealed into metal bezels with Kryoflex seals. Weld transition options include titanium grade 4, aluminum series 4000 or 304L/17-4PH stainless steel.



These windows are extremely robust and still exhibit a leak rate of <1 x 10-9 cc/sec He at 1 atm differential pressure after 1,200+ autoclave cycles.



More from Electrical Equipment & Systems