Quartz Crystal Microbalance: QCM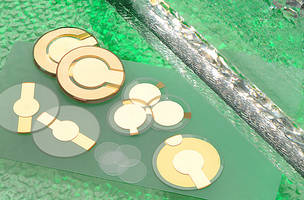 Available from Laptech precision their very wide range of quartz microbalance sensors, which can be manufactured to custom specifications. The circular-blank material has parallel faces and either flat, bevelled, plano or double contoured profiles.
These QCM monitor crystals come in frequencies ranging from 1MHz up to 60MHz, they have custom electrode configurations with possible wrap around electrodes for single side functionality, resistive layers for self-heating capabilities, and rectangular substrates for multiple arrays.
These crystals are mainly used in application including Biomedical Sensors, Metal Deposition Monitors, environmental Monitoring, mass sensors, thickness monitors and Chemical Reaction Monitors. Specific ordering information is available upon request, if you require assistance our excellent design engineer is available to deal with your enquiries.
About Laptech Precision Inc.
Founded in 1972, the company, which is located in a 15,000 square foot facility in Ontario Canada, employs highly skilled personnel, its unique blend of products and services include precision quartz resonators supplied to oscillator manufacturers worldwide, quartz and alloy material fabrication to exacting parallel and optical polish standards and high precision OCXO, TCXO and VCXO oscillators manufactured by the parent company. Additionally a range of miniature smd oscillators purchased from qualified sources are provided to augment the group manufactured products.
The company is ISO9001:2008 and RoHS compliant and follows a programme of environmental management
Contact: sales@laptech.com
Our mailing address is:
Laptech Precision Inc.
230 Simpson Avenue South
Bowmanville, Ontario, Canada, L1C 2J3
More from Software