Miscellaneous Storage Equipment
QNAP Integrates Hikvision H.265 Network Cameras and Extends the Compatibility of IP Surveillance Solutions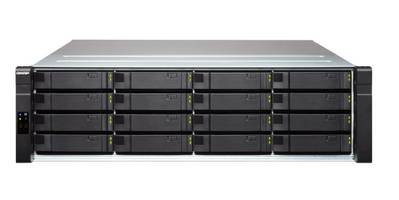 Taipei, Taiwan, February 1, 2018 – QNAP® Systems, Inc. today announced that QNAP NAS are certified compatible with Hikvision H.265 high-resolution network cameras, including the DS-2CD2H25FHWD, DS-2DF8836I5X, DS-2TD2636, and additional camera models. QNAP recently integrated 92 Hikvision H.265 network camera models, laser speed domes, and thermal network cameras, providing audio detection, tampering detection, and tripwire detection for surveillance users.
The Hikvision DS-2CD2H25FHWD 2MP WDR Vari-focal Network Turret Camera incorporates a 1/2.8" CMOS sensor, enabling the camera to deliver superior image quality at 1920 x 1080 resolution, providing ultra-low light capabilities, and 120dB Wide Dynamic Range (WDR) to further supplement image details. The DS-2DF8836I5X 8MP 36× Network Laser Speed Dome is designed for large-scale surveillance requirements. The camera features a 2/3" progressive scan CMOS sensor, 4K resolution output, and crystal-clear image capturing even in dim light conditions or in total darkness. The Hikvision DS-2TD2636 Thermal + Visible Bi-spectrum network bullet camera captures vivid, high-resolution videos of moving objects at resolutions up to 384 x 288, unhindered by either darkness or bad weather. It boasts a full range of "smart" features, including line crossing detection and intrusion detection for perimeter protection.
"We're glad to expand our product integration with QNAP, especially with our thermal technology included, to provide our mutual users with additional solutions in various environments such as perimeter patrol, ports/harbors, and other critical infrastructure," said Adler Wu, Technology Partner Program Manager at Hikvision. "With smart detection features supported in our combined solutions, users can benefit from modern video surveillance technologies that provide maximum security efficiency for operations and post-event investigations."
QVR Pro integrates comprehensive video surveillance features into QNAP NAS, ensuring a recording environment separated from QTS with storage expandability and flexible storage space management functions. The integration of QNAP NAS and Hikvision network cameras provides a comprehensive surveillance solution that ensures optimal recording quality, in-time file backup and full-scale RAID protection.
For more information about QNAP video surveillance solutions, please visit https://www.qnap.com/solution/qvr-pro-official/en/
For more information about QNAP NAS and compatible IP cameras, please visit https://www.qnap.com/en/compatibility-qvr-pro
For more information about Hikvision products, please visit http://www.hikvision.com/en/
About Hikvision
Hikvision is the world's leading provider of innovative video surveillance products and solutions. Featuring the industry's strongest R&D workforce, Hikvision advances core technologies of audio and video encoding, video image processing, and related data storage, as well as forward-looking technologies such as cloud computing, big data, and deep learning. In addition to the video surveillance industry, Hikvision extends its reach to smart home tech, industrial automation, and automotive electronics industries to achieve its long-term vision. Always creating value for its customers, Hikvision operates 33 regional subsidiaries all over the world to achieve a truly global presence. For more information, please visit us at www.hikvision.com.
About QNAP Systems, Inc.
QNAP Systems, Inc., headquartered in Taipei, Taiwan, provides a comprehensive range of cutting-edge Network-attached Storage (NAS) and video surveillance solutions based on the principles of usability, high security, and flexible scalability. QNAP offers quality NAS products for home and business users, providing solutions for storage, backup/snapshot, virtualization, teamwork, multimedia, and more. QNAP envisions NAS as being more than "simple storage", and has created many NAS-based innovations to encourage users to host and develop Internet of Things, artificial intelligence, and machine learning solutions on their QNAP NAS.
Related