PurgElite® Tandem Pipe Purging System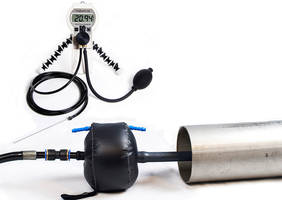 Inflatable Tube and Pipe Purging Systems simplify the process of inert gas purging by restricting weld purge volumes, making huge savings in time and inert gas.
Huntingdon Fusion Techniques HFT® design and manufacture PurgElite®, a range of low cost Tube and Pipe Purging Systems that help to achieve a clean, oxide free, zero colour weld in just minutes, available from 1" (25 mm).
Ron Sewell, Chairman for HFT® said: "Purging a pipe prior to welding is critical to the success of welding stainless steel, titanium, zirconium and other reactive alloys. PurgElite® systems are simply inserted in the pipe and positioned with the aid of the luminous RootGlo®. When the gas flow is started, the dams inflate, sealing inside the pipe and argon then purges the interspace automatically. A Weld Purge Monitor® connection is standard on each PurgElite®, so the welder can monitor the oxygen content of the purge volume throughout the entire welding process."
Each PurgElite® features IntaCal®, a purge gas feed device, which means there is no complicated valving for the operator to adjust and set. Quick connect/disconnect fittings with collets and 'O' ring seals for gas tight sealing, fitted with anti-release circlips are fitted to all systems to prevent parts accidentally separating inside pipes.
HFT®'s innovative PurgeGate® Valve is available as an accessory, a unique one way valve suitable for all types of Inflatable Pipe Weld Purging Systems. PurgeGate® regulates the gas flow and pressure during weld purging to prevent the dams from over inflating and bursting.
Heat Resistant Covers with a rating up to a temperature of 300ºC are available as accessories to protect the inflatable dams. These are attached with ties sewn into the covers.
Watch the PurgElite® demonstration video, available at: https://youtu.be/Q-dSRpPvd1s
Huntingdon Fusion Techniques HFT® have a worldwide Exclusive Distributor network, which can be found at www.huntingdonfusion.com.
Made in Wales 'Manufacturer of the Year' and Welsh Business Awards – Exporter of the Year.
For further information, please contact:
Michaela Hess, Marketing and Social Media Manager
Huntingdon Fusion Techniques HFT®
Press: michaelahess@huntingdonfusion.com
Sales: support@huntingdonfusion.com
www.huntingdonfusion.com
Huntingdon Fusion Techniques HFT® are Weld Purging Innovators, Designers and Manufacturers with offices located globally.
Huntingdon Fusion Techniques HFT® invented the 'Weld Purge Monitor®' in 1975 and own all international intellectual property rights and registered trademarks.
Weld purging is the act of removing, from the vicinity of the joint, oxygen, water vapour and any other gases or vapours that might be harmful to a welding joint. Such gases may combine with the metal to form undesirable compounds that may reduce corrosion resistance or may be instrumental in creating cracks or other structural defects in metals.
More from Agricultural & Farming Products