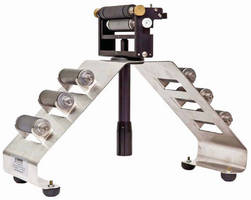 A Proofer Storage Stand is the best way to keep your proofer anilox roller
investment safely stored and ready for use.

The Proofer Storage Stand safely stores 6 proofer rollers and the proofer assembly. The proofer rollers are suspended by its journals to protect the engraved surface area. Rollers with wide or narrow hubs can be stored. The proofer assembly is stored with the handle down and it is safely supported on a rubber grommet.

Storing the proofer assembly with the rubber roller straight up helps eliminate the concern of creating a flat spot by the rubber roller lying on the work bench.

The Proofer Storage Stand is made of corrosion resistant stainless steel and features rubber supports that will not mark or scratch the table surface.

More from Agricultural & Farming Products