Profol Wins German Sustainability Award 2020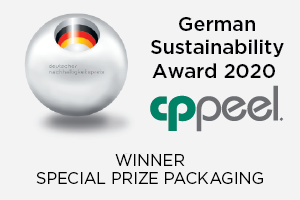 Nuremberg / Halfing, Germany – Profol GmbH, a leading manufacturer of cast polypropylene (CPP) films, was named the winner of the German Sustainability Award at a gala event that took place in Dusseldorf, Germany on November 22, 2019, for its CPPeel® lidding solutions.
Profol was selected from the top three companies in the Special Prize Packaging category. Politicians, retailers and consumers agree that global plastic waste needs to be reduced. This award recognizes market-ready products that reduce, optimize or avoid packaging waste.
The National German Sustainability Award, established in 2008 to encourage the acceptance of social and ecological responsibility and to identify role models in this area, is endorsed by the German Federal Government, local and business associations as well as numerous NGOs, among them UNESCO and UNICEF.
"We firmly believe that plastic is very much part of the sustainability equation if the right materials combined with the right designs are applied to suitable challenges. To have that fact recognized on this stage has been extremely motivating to our company. Only being nominated has inspired us to develop further film solutions toward 100% recyclable mono-material packaging designs," said Philipp Schieferdecker, Managing Director of Profol.
About Profol CPPeel Solutions:
CPPeel polypropylene lidding film is an alternative to lidding films containing aluminum, metalized PET or paper/polyethylene, and make food packaging easier to recycle. When polypropylene cups have any remnants of aluminum lids, they must be removed from the recycling stream. CPPeel lidding film used in conjunction with a cup made of polypropylene makes the entire packaging solution 100% recyclable according to the German Packaging law. Polypropylene lids also take less energy to manufacture and provide puncture resistance that helps lower food losses.
About The Company:
Since its beginning in 1980 as Profol GmbH (Halfing, Germany), the company has specialized in the production of high-quality cast polyolefin films. As an environmentally friendly and versatile raw material, cast polypropylene (CPP) has increasingly replaced other plastic film products. Polypropylene is odorless, tasteless and does not react with skin and mucous membrane. Originally used mainly in the office supply industry, CPP is increasingly gaining acceptance in packaging, furniture and automotive industries.
Profol develops new product innovations based on CPP and other polyolefins, carries an extensive standard product line, and makes individual films to customer specifications. Profol supplies customers around the world through manufacturing sites in Europe, the Americas and Asia. With more than 26 production lines worldwide at its six production sites and approximately 500 employees, Profol has an annual capacity of over 120,000 metric tons of cast polyolefin film.
Profol actively promotes environmental protection and sustainability by striving to reduce the consumption of raw materials, producing with a minimum of energy (eg. through heat recovery) and using recyclable materials throughout the production process.
More from Fluid & Gas Flow Equipment