Process know-how Results in the Perfect Dosage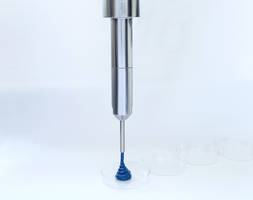 ViscoTec systems for hygienic dosing and filling applications
Hygiene - is the Sword of Damocles in the production of pharmaceuticals, food and cosmetics. In these branches of industry both a germ-free production environment and a hygienic handling of the product play an important role. In the case of the smallest impurities, whole batches become unusable. This is why, when planning new production lines, it is important to pay special attention for a perfect layout of each individual stage in the process. In addition to designing systems specifically for the application, the specialists at ViscoTec GmbH, guarantee a comprehensive consultation on the implementation - whether in manual workstations in a laboratory or in fully automatic production processes.
All systems of the Bavarian dosing technology manufacturer are based on progressive cavity technology. A precise and pulsation-free flow of product is guaranteed thanks to this pump technology. The product is guided extremely gently through the special rotor-stator geometry. Even sheer-sensitive, filled and abrasive media prove to be no problem. The entire dosing and filling process benefits from these properties. The ViscoTec systems can already intervene when they are removed from their respective containers and use the appropriate collection systems to deliver the products directly to the bottlers or the precision dosing pumps. During dosing, a programmable retraction prevents dripping and stringing, thus ensuring a clean filling and application.
At this year's Interpack, ViscoTec GmbH presents its dispenser series for particularly precise dosages and small filling quantities (up to 0.2 ml). The filling machines for pharmaceutical, cosmetic and food applications are perfectly suited for the production and handling of sensitive products and are characterized by their cleaning properties.
In order to meet the high cleaning requirements in production, the dispensers can be dismantled without using tools. All components which are in contact with the product can be cleaned manually or in cleaning systems, as well as in ultrasonic baths. These components can be steam sterilized in autoclaves of up to 134°C. ViscoTec VHD dispensers have been specially optimized for automated cleaning without disassembling and are therefore fully CIP and SIP compatible. The exact combination of the influencing factors, such as chemistry, temperature, mechanics and time, makes cleaning a reproducible process.
However, the dispensers not only excel in their cleaning ability. The VPHD and the VHD series also impress when handling highly viscous products. Products up to 7,000,000 mPas can be processed, dosed and bottled. The ViscoTec systems can also be retrofitted to existing systems in order to ensure more process quality. All these properties make ViscoTec's dispensers all-rounders in the process, which offers greater benefits for every production.
ViscoTec - Perfectly dosed! ViscoTec primarily deals in systems required for conveying, dosing, applying, filling and emptying medium to high-viscosity media. The headquarters of the technological market leader is in Töging (Upper Bavaria, in the district of Altötting). In addition, ViscoTec has subsidiaries in the USA, in China and in Singapore and employs about 120 people worldwide. Many traders around the world extend this international distribution network. In addition to sophisticated solutions even in the most complicated tasks, ViscoTec offers all components for a complete application from one source: from procurement, through to product preparation to dosage. This guarantees a successful interaction of all components. All fluids with a viscosity of up to 7.000.000 mPas can be conveyed and dosed almost pulsation-free and with extremely low pressure. For each application there is comprehensive consultation - and where necessary in collaboration with the customer - extensive tests are carried out. ViscoTec dosing pumps and dosing systems are optimally adjusted to the respective application: in food applications, in the automotive, aerospace, medical, pharmaceutical and in many other industries.
Press Contact:
Elisabeth Lenz,
Marketing Manager
ViscoTec Pumpen- u. Dosiertechnik GmbH
Amperstraße 13, 84513 Töging a. Inn, Germany
Tel.: +49 8631 9274-447
ViscoTec America, Inc.
1955 Vaughn Road
Suite 209 Kennesaw GA 30144
Phone: 770-422-4281
Url: http://www.viscotec-america.com/
Contact:
Melanie Hinterederm
Marketing
Email: melanie.hintereder@viscotec.de
More from Electrical Equipment & Systems