Preview for Seica Inc for Semicon West – Semicon West – 7/11/17 – 7/13/17 – San Francisco, CA – Booth #7709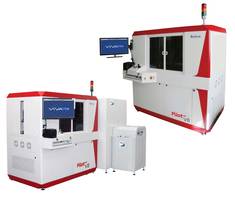 Salem, New Hampshire USA, July 2017 - Seica will be showcasing the new Industrial Monitoring solution at this exhibition. The solution has been conceived with a special focus towards energy saving requirements and predictive monitoring of events, in compliance with the principles of Industry 4.0. Our system on the booth, the Pilot 4DV8 will integrate Seica's industrial monitoring hardware, and visitors will be able to see the software and mobile tools that provide 'real time' information to assist plant managers in assessing the status of all the equipment in the plant. The Pilot system will be shown testing semiconductor load/probe cards of high complexity.
Pilot 4DV8 Flying Probe tester, which has 12 mobile test resources distributed on the two sides of the board under test, and its unique vertical architecture means that all the resources are available at all times for testing. A series of high level performances allow this system to maximize test speed, repeatability, test and positioning precision and fault coverage, even on the most advanced-technology boards, which typically have high-density circuitry in a very small board dimension. The solution on display includes an integrated horizontal Seica Automation handling system, for completely automated test process.
About Seica
Seica offers its customers a comprehensive line of in-house developed test solutions. Strong, long-established partnerships with leading companies from the electronics production and test industry have helped Seica to extend its solutions portfolio to cover the entire product life cycle. In times of continuous change, where globalization is a major challenge for international competitiveness, Seica pursues the strategy of direct local presence in Italy, France, Germany, USA, Mexico and China. Skilled expert teams provide local service and support. Please see www.seica.com
More from Machinery & Machining Tools