Premiere: Reduced Opening Stroke for IML Applications Thanks to Patented Solution from Beck Automation at the NPE 2015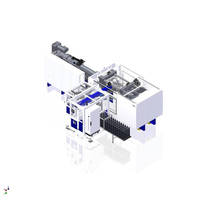 Typical USA: High productivity thanks to 4-cavity mold



IML technology in a nutshell



Oberengstringen (CH) – IML has arrived in North America. IML, introduced in Europe more than 25 years ago, is currently gaining in significance in North America. Reason enough for Beck Automation to take up this trend. Beck Automation will be presenting the highly dynamic IML system B4 on the stand of the KraussMaffei Group (West Building, Stand 903 W) at the NPE 2015 in Orlando (USA). The turnkey production cell consists of a Netstal ELION 3200-2900 all-electric injection molding machine and a 4-cavity injection mold from Glaroform. The object is a stadium cup (44 oz cup with a wall thickness of 0.86 mm) frequently encountered in the USA in football, baseball or soccer stadia. The reference product comes from the Churchill Container Company (Shawnee, Kansas (USA)). The secret behind the IML automation is a concept developed by Beck (patent pending) that allows a reduced opening stroke to be used on the injection molding machine.



The B4 IML system from Beck Automation is regarded as a reference with respect to productivity, speed, footprint, availability, and process reliability. "Performance is the key word in IML automation. The key elements are investment costs in relation to the life cycle costs. Productivity and reduced scrap rates, long operating intervals and life cycle times play a major role here for cost-effective operation of the IML system. The B4 IML system with the new "in-line concept" (patent pending) with reduced opening stroke on the injection molding machine offers a significant economic boost. Particularly when stack molds are used," explains Nick Lewis, Beck sales partner in North America. Typically Swiss-made: Experience and know-how form the basis for an IML system with extremely high availability: The B4 IML system is characterised by a very sturdy design in conjunction with the use of high-quality guide elements and powerful, highly dynamic drives that Beck Automation synchronises perfectly with one another. "The B4 IML system is very quiet and allows "stress-free" movements. Thanks to the design principle and the wide range of tests before delivery, we can keep the installation time in the customer's works very short and can go into production with the system in just a few days. We're not just talking about "just-in-time", we mean exactly that."



IML growing in importance in North America

IML is one of the emerging decoration trends in the packaging industry in North America. IML, introduced in Europe more than 25 years ago, is currently gaining in significance in North America, because IML offers a visually attractive "look" for numerous food applications, such as cups or foodstuffs containers. Nick Lewis: "IML is pure attractiveness. It is taking the packaging scene by storm here. The stadium cup on show is a very typical example of a food application. In view of the large numbers in the USA, the 4-cavity system being shown is very interesting for the whole of North America due to its reliability and productivity." The B4 IML system is also user-friendly when it comes to product changes: The machine is very flexible and quick to convert for cups in sizes from 12oz to 32oz to 44oz.



Consistently high productivity

As always at Beck Automation, this B4 IML system is a high-speed application (total cycle time: approx. 7.5 seconds, manipulation time: 1.8 seconds). According to Beck Automation, the production capacity is 32 cups per minute, or 1920 cups per hour. Equipped with the latest control and drive technology, the B4 IML system is operated via touchscreen. An integrated remote access provides the option to log into the system from outside in order to provide cost-efficient and fast operator assistance when required.



Premiere: "In-line concept" for IML (patent pending)

Beck Automation is presenting an innovative IML system at the NPE 2015 for the first time that requires a reduced opening stroke of the injection molding machine. The key to the system is a dynamic modification of the kinematics from a 2+2 product arrangement to 4-cavity in-line. The method of operation of the "in-line principle" (patent pending) can be described as follows: The finished cups are taken from the mold in 2+2 pairs while the labels are being placed into the other mold half at the same time. At the moment the IML cores have fully entered the mold, the finished cups are rearranged into a 1x4 line on the removal side between the two mold halves. In the next cycle the IML cores are again retracted from the mold and the main shaft out of the mold area back into the IML system. This "smart in-line principle" offers particular advantages for products with an "unfavourable" diameter-to-length ratio, such as the stadium cup. This saving pays off double with stack molds that are very widespread in North America. With single-face molds this allows a reduced opening stroke that is calculated as follows: Product height x 2 plus 120 mm manipulation space (e.g. for the stadium cup: 2 x 216 mm + 120 mm = 552 mm). In the conventional process, i.e. without kinematic rearrangement of the products into 4 in-line, the opening stroke is calculated as follows: Product height x 3 plus 120 mm (3 x 216 mm + 120 mm = 768 mm). That means a 39% reduction in the opening stroke of the mold halves. For the same application with a stack mold, this effect is reflected in a reduction of 39%: Product height x 4 plus 240 mm (4 x 216 mm + 240 mm = 1104 mm), compared with the convention product height x 6 plus 240 mm (6 x 216 mm + 240 mm = 1536 mm). The practical benefits of the "in-line principle" are manifold:



• Increased independence, i.e. lower space requirements (smaller footprint) in the product stack on the conveyor

• Less cameras with the optional visual control on the main arm

• The use of a smaller injection molding machine with lower clamp tonnage are possible

• Optimum support is provided for stack molds and no increase in the opening stroke is required

• A further benefit is the time saving for the opening and closing of the injection molding machine which has a positive effect on the overall cycle time



Expanding service in North America

IML expert Nick Lewis is at the "front-end" for Beck Automation and Glaroform in North America. Beck Automation provides support for clarifications, concept proposals, quotations or financing solutions. Technical service such as for installation, maintenance or prevention is provided from Switzerland. All systems from Beck Automation are fitted as standard with remote diagnostics capabilities. In combination with the 24/7 availability of the service technician, this allows very short reaction times to be guaranteed. Beck has announced the establishment of a new service organization in North America for 2016. Certain components have already been "Americanized" to enable faster reactions. For example, the servo motors come from the U.S. manufacturer Kollmorgen in Radford (Virginia).



"Swiss-made" mold technology from Glaroform AG

Glaroform AG, Näfels (CH), is presenting a high-speed injection mold with 4 cavities for a stadium cup on a Netstal ELION 3200-2900 all-electric injection molding machine. The mold has a hot runner system developed in-house with pneumatically actuated needle valve. The molding is decorated on the side wall by IML. In order to guarantee a very short cycle time and a high, reproducible product quality at the same time, a highly efficient near-net-shape cooling system has been implemented in accordance with Glarofom standards. The thermally balanced cooling system reduces distortion of the part very effectively and reliably. And to guarantee the very long service life of the molds for which Glaroform AG is renowned, the relevant components are of very sturdy design and treated using the latest surface coating processes. The molds are manufactured with the highest precision and to close tolerances to ensure outstanding process reliability. The 44 oz stadium cup has an average wall thickness of 0.86 mm with a part weight of approx. 52.8 g and is made from the material Vistamaxx (polypropylene (PP)) from ExxonMobil.



Product communication through high-quality labels

IML Étiquettes/IML Labels give the stadium cup its elegant appearance. The labels used are made from a white 70 µ multilayer polypropylene film, printed and punched by IML Étiquettes/IML Labels, St. Eustache (Quebec, Canada). Although it is also common to use labels with a smooth surface, the "orange peel" effect is probably the most attractive characteristic of an IML application. In order to achieve this effect, IML Étiquettes/IML Labels use a "hollow" BOPP film. Structured like a sponge, the film breaks open during injection molding and changes its surface structure. It creates a brilliant visual effect that further enhances the print. Photo-realistic images, such as of fresh fruit, magically attract the viewer.



Benefits of IML Films

IML Étiquettes/IML Labels is a highly specialized and well established label supplier in North America with high IML competence. IML Étiquettes/IML Labels summarizes his own expertise as follows: "We are the only printer in North America that specializes exclusively in IML (in-mold labeling)." Important for IML Étiquettes/IML Labels is also the environmental aspects: The IML process has minimum impact on the ecosystem and satisfies the highest environmental standards. Its components and materials, including the paints and lacquers, can be full recycled. Regular audits ensure that all the standards are observed. IML Étiquettes/IML Labels achieves 80% of its production in the foodstuffs industry where minimum residual odor and a "zero printing media migration" are demanded. The shape of the stadium cup requires labels that are stamped with the utmost precision on the one hand, and that can guarantee the fast cycle times with a good electrostatic charge on the other. The 220 lpi sheet-fed offset process guarantees the highest printing quality for both four-color photographic images and for Pantone colors. IML Étiquettes/IML Labels can print IML labels with up to 8 colors including lacquer coating. The polypropylene base films can be white, opaque, transparent, matt or glossy. They protect the packaged product effectively against cold or heat, moisture and scratches. A team of specialists supports the customer with the design and its technical implementation. This gives IML users a broad range of options to lend their products an upmarket look and feel at the point of sale in order to influence the purchasing decision.



- Additional information on IML:



IML technology in the reference class

As IML is a highly dynamic process, profitability is derived from the level of all the plant components. First the labels are drawn out of the label magazine. In the second step the labels are placed onto the cores and held by vacuum. The automated cores move into the cavities to transfer the labels. In this stage the labels are blown against the vacuum, electrostatically charged and thus placed and held in the cavities so they are form-fitting. This makes the level of process design and quality of the label key factors in process safety, reproducibility, part quality and economic efficiency.



Beck Automation at the NPE 2015 (Orlando, USA) March 23 to 27, 2015: West Hall Level 2, Stand W903 



Beck Automation AG

Neugutstrasse 19

8102 Oberengstringen

Schweiz |  Switzerland | Suisse

Phone:  +41 (0)  44 751 84 44

Internet:  www.beck-automation.com



Management:

Dieter Peter



Media relations:

Daniel Merki

Tel.:   +41 (0) 44 751 84 66

E-mail:  d.merki@beck-automation.com



Beck Automation in the USA

Nick Lewis



Tel.:   +1 (905) 315 9882

Mobile:  +1 (905) 315 0541

Skype:  welshnick

E-mail:  beckautomation.americas@cogeco.ca



IML Étiquettes/IML Labels

175, rue Williams

Saint-Eustache

QC J7R 0A4

Quebec

Canada



In the USA:



IML Étiquettes/IML Labels Inc.

2620 White Oak Circle

Aurora

IL, 60502

USA



Internet:  www.etiquettesiml.com/en/



Churchill Container Company

19919 Shawnee Mission Parkway

Shawnee

KS 66218

USA



Internet:  www.churchillcontainer.com



About IML Labels



IML Labels is a large label printing company that specializes in in-mold labeling. In 2006, we decided to invest into this market of injection molded labels due to increasing demand in North America, in order to better serve a multitude of clients that were buying their goods in Europe.



Since then, IML Labels has attained a level of excellence that has been increasing in leaps and bounds. The company has over fifty employees, dedicated to building close working relationships with their customers, based on trust and openness. Due to the outstanding quality of our products and our expertise in understanding your specific needs and requirements, we can offer our customers a fully integrated service with state of the art technology, making your planning efficient and carefree!



IML exterior



Our local presence and determination in being the best in the IML industry is what sets us apart from our competitors. Due to increasing demand in the past few years we have decided to invest in a brand new facility based in Chicago. Not only will this investment allow us to reach out to new clients, but will also enable us to track the growth of the market and also implement an effective contingency plan for our most loyal customers.



We pride ourselves in being a "one stop shop" model, whether it will be to print as little as one label, or millions at once. That way there's something in it for everyone!



About Beck Automation AG



Beck Automation AG from Oberengstringen, Switzerland, is a world leading provider of automation solutions for in-mold labelling (IML) in injection molding. Beck Automation focuses consistently on decorating and labelling lids, pots, tubs and buckets for various industries in the fields of food and non-food.



Tailored to exacting customer specifications, process reliable and economic robot systems are built that are deployed around the globe. This consistent focus on IML guarantees that users get the finest state of the art in terms of quality, economic efficiency, effectiveness and durability.



Run by the second and third generation of the family, the company establishes and maintains long-term relations to market partners with a forward-looking and sustainable policy. This strategy secures the jobs of committed and experienced staff. A traditional structure, a tried and tested network of partners, and astute adaptation to changes form the basis for ongoing company development and inspiration on behalf of partners, customers and staff.



Beck Automation was founded in 1934 and celebrated its 80th anniversary in 2014.



More than 500 reference plants underline the company's global reach. Some 45-50 systems are delivered per year from the company's Swiss headquarters. In 2014 Beck Automation generated sales of SFr 13 million (CHF) with 45 employees.





Related