Precise(TM) Controlled Atmosphere Glove Boxes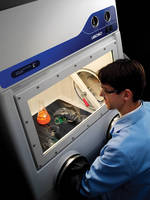 Precise® Controlled Atmosphere Glove Boxes offer high-end construction and features at economical prices. The Precise Controlled Atmosphere Glove Box, sometimes called a "dry box," maintains a leak-tight, controlled condition environment for applications such as organometallic chemistry, alternative energy cells, or hydrophilic chemicals. The boxes are capable of maintaining low levels of oxygen, as low as 5 ppm, or moisture, as low as 50 ppm.

Features include a one-piece molded, medium-density polyethylene shell with a black, chemical-resistant work surface; a viewing window of ¼" thick laminated safety glass; six manual valves for purging, filling and drying train connections; and space-saving inner and outer transfer chamber doors that pivot upward, are counterbalanced and equipped with quick-latches and pressure relief valve.

The 13 cubic feet interior of the main chamber meets Class 1 atmosphere conditions for leak rate per ISO 10648-2 test methods. The transfer chamber is 11.0 inches long and also features a pressure gauge with readings from 0 to -29 inches of mercury.

The Precise line of Glove Boxes also includes a Basic Glove Box, a HEPA-Filtered Glove Box and an XPert Weigh Box. For more information on any of the Precise line of Glove Boxes, call Labconco Corporation at 800-821-5525 or visit www.labconco.com.


More from Agricultural & Farming Products