Portable Steam Cleaning & De-Icing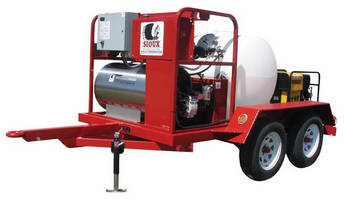 Beresford, South Dakota, USA - February 10, 2010 - Sioux Corporation, an industry leader in custom, application-specific pressure washers, steam cleaners and steam generators, is highlighting its trailer-mounted steam cleaners. These units are used worldwide for removing oil and grease from heavy equipment, thawing and de-icing equipment, pipes, valves, drains, and culverts in cold weather, de-gassing tanks, and cleaning and sterilizing facilities and equipment. Sioux's mobile steam cleaner is easy to operate, and includes a generator and water tank for remote use where there are no utility connections. Conservatively engineered, these units will produce 2 or 4 GPM steam at 250 PSI and 320°F, and use 57% less water, produce 57% less runoff, and without splash back, compared to standard hot pressure washers. For extremely cold locations, you start the unit before leaving your shop and let warm water circulate to prevent freeze-up en route. All mobile steam cleaners come standard with an anti-freeze circulation package for easy winterization. The generator can provide remote power for lighting and tools, in addition to operating the steam cleaner itself. Mobile steam cleaners from Sioux can reduce chemical usage and will provide reliable, trouble-free service for years.

Sioux Corporation also manufactures a full line of application-specific equipment used in various industries such as petroleum, mining, concrete, manufacturing, wastewater, food and beverage, and government. For more information about Sioux's complete product line and our Reliability Guarantee, please contact us toll-free 888-763-8833 or visit our website www.sioux.com.

More from Sensors, Monitors & Transducers