Polyplastics to Highlight Latest Material and Technology Innovations at Fakuma 2018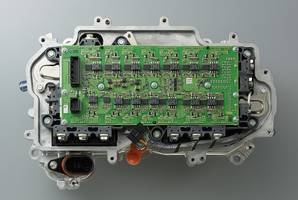 TOKYO, September 26, 2018 -- Polyplastics, a leading global supplier of engineering thermoplastics, will showcase its cutting-edge material solutions, technology innovations, and the latest applications at the upcoming Fakuma 2018 exhibition Oct. 16-20 in Friedrichshafen, Germany (Hall B1, Booth B1-1213). The trade show is expected to attract more than 1,800 exhibitors and roughly 50,000 visitors.
Under its show theme of "We Drive Your Innovations," Polyplastics will also focus on e-mobility, along with its efforts in research and development. The company's newly established technical center in Frankfurt offers expanded customer support, delivering design and product development expertise for a range of applications.
Polyplastics will exhibit the latest developments for its broad product portfolio including DURACON® POM, DURANEX® PBT, DURAFIDE® PPS, LAPEROS® LCP, and TOPAS® COC resins. Examples of recent applications in new energy vehicles, high-end electric devices, and food and sanitary will also be displayed.
Other key material developments include POM resin grades with low-VOC emissions for the production of automotive interiors. These DURACON® low-VOC acetal grades are specifically designed to meet the latest regulations governing the concentration of VOCs in automotive interiors. Polyplastics will also highlight its new DURAFIDE® PPS grade which delivers improved heat shock resistance for a range of automotive applications. Meanwhile, the company will showcase its extensive range of engineering thermoplastics which facilitate laser welding of housing components for the automotive and electrical/electronics industries.
At Fakuma, Polyplastics will present the viability of polyphenylene sulfide (PPS) for bump-off molding of automotive engine cooling systems. Bump-off molding results in an undercut that "bumps" in two directions and ejects from the mold without using a sliding structure. The parting line (mold lip) goes away allowing for a burr-less mold. Polyplastics' linear DURAFIDE® PPS, which already offers superior performance over rivals like nylon 66, now has bump-off molding capabilities to eliminate deburring. Polyplastics has also developed DURANEX 457EV, an unfilled, high-impact PBT which satisfies the UL2251 standard for electrical/electronics and automotive.
About Polyplastics
Polyplastics Co., Ltd. is a global leader in the development and production of engineering thermoplastic solutions. The company's broad product portfolio includes POM, polybutylene terephthalate (PBT), polyphenylene sulfide (PPS), liquid crystal polymer (LCP), and cyclic olefin copolymer (COC). The company has the largest global market share of POM. With more than 50 years of experience, the company is backed by a strong global network of R&D, production, and sales resources capable of creating advanced solutions for an ever-changing global marketplace.
Contact:
Melanie Laukemann
Polyplastics Europe GmbH
Tel: +49-69-305-46765
melanie.laukemann@polyplastics.com
More from Machinery & Machining Tools