Polycarbonate Blend from Covestro Offers Flame Retardance for LED luminaires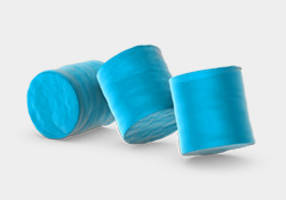 PITTSBURGH, Feb. 28, 2017 - Light-emitting diode (LED) lighting continues to grow in popularity due to its wide variety of benefits, including energy efficiency, longer service life and superior performance. Thermal management helps to ensure LEDs work efficiently and effectively, and contributes to long-term performance. With this need in mind, PowerSecure Lighting turned to Covestro LLC to find the ideal flame retardant material for LED lamp components used in its Solais® products.
Bayblend® FR3010 polycarbonate/acrylonitrile butadiene styrene (PC+ABS) blend from Covestro is utilized in Solais' trackhead and module family lines. These LED luminaires can be found in a variety of applications, including high-end retail, commercial, hospitality, health care and other environments.
Two components are molded from lightweight Bayblend® PC+ABS blend: one holds the lamp fan to allow for cooling of the module and power supply; the other forms the electrical enclosure around the power supply. The two components, while not visible from the outside, are critical to the products' performance. Bayblend® FR3010 PC+ABS blend meets the UL 94 5VA flammability requirement—which the material previously used was unable to fulfill.
"These products have a special flammability requirement due to our use of unisolated power supplies," said Daniel Miller, vice president of product development and engineering, PowerSecure Lighting. "With this need, the flame retardant properties of Covestro's material were extremely beneficial to the overall design and functionality of our products."
"Bayblend® FR3010 PC+ABS blend is the ideal material to keep the Solais trackhead and module line of LED luminaires safe and long-lasting," says Anthony Leo, field market development, Polycarbonates, Covestro LLC. "In addition to material selection, we helped PowerSecure Lighting design its snap fits correctly to extend the life of the plastic component and ensure full functionality."
"LED lighting OEMs continually look for ways to enhance their product lines to meet the needs of the markets they serve," said Kevin Dunay, industry manager, Polycarbonates, Covestro LLC. "Day-in and day-out, we work with OEMs and product designers to help ensure that they have the ideal materials to make their concepts a reality."
Attendees at Strategies in Light, Feb. 28 – Mar. 2, in Anaheim, California, are invited to visit Covestro's booth (#605) to learn more about the materials and technologies Covestro offers for LED lighting applications.
About Covestro LLC:
Covestro LLC is one of the leading producers of high-performance polymers in North America and is part of the global Covestro business with 2016 sales of EUR 11.9 billion. Covestro manufactures high-tech polymer materials and develops innovative solutions for products used in many areas of daily life. The main segments served are the automotive, electrical and electronics, construction, medical and sports and leisure industries. The Covestro group has 30 production sites around the globe and employed approximately 15,600 people at the end of 2016.
Find more information at www.covestro.com or www.plastics.covestro.com.
About PowerSecure Lighting:
PowerSecure Lighting designs and manufactures the lighting industry's highest-performing LED lamps and fixtures. With superior lumen output, center-beam candlepower, and overall aesthetics and performance, PowerSecure Lighting's LED products enhance the retail, supermarket, commercial, museum and hospitality environments of the world's leading brands. PowerSecure Lighting relentlessly pushes the innovation envelope to create products that replace traditional lighting technologies with zero compromise to aesthetics and performance. To learn more about PowerSecure Lighting, visit us in person in Stamford, Connecticut, or online at PowerSecureLighting.com.
Contact
John Skabardonis
Telephone 412-413-5444
Email [email protected]
SOURCE Covestro LLC
Web Site: http://www.covestro.com/en