Polo Custom Products Offers Thermoforming of Fabrics & Foam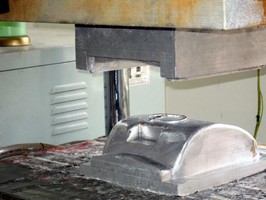 Polo Custom Products announces a New Capability . . .Thermoforming of Fabrics and Foam.

Topeka, KS, October 2006. Polo Custom Products is pleased to offer custom thermoformed fabric and foam products to our customers. Demand for thermoformed products for the industries in which our customers operate has increased. The capability is a natural compliment to our extensive custom sewing and sealing capabilities.

Thermoforming is a method of processing flat material into a finished 3-dimensional shape. The process begins with fabric laminated to one or both sides of foam. This laminate is then placed in a two-piece mold to form the necessary shape. Heat and pressure are applied, permanently molding the laminate into the desired semi-rigid part.

As with custom sewn products, thermoforming products have the same personalization options and hardware options. Thermoformed products can have logos and artwork attached. Molded vinyl logos, woven labels, or embroidered patterns that can be sewn onto a product work best. There are virtually no limitations for hardware attachments. Zippers, snaps, rivets, buttons, hook and loop, etc. can all be incorporated into the product design.

Typical Applications for Thermoformed Products

Thermoformed product applications are practically unlimited.

o Cases: Instrument, Consumer Electronics, Medical, Computer, Tool, Audio Visual
o Holsters: Gun, Baton, Flashlight, Portable Testing/Detecting/Sampling Instrument
o Liners/Dividers: Compartment, Glove Box, Console, Carrying Case, Helmet
o Pouches: First Aid, Occupational Tools/Instruments
o Pad Assemblies: Harness, Support, Protection

Advantages of Thermoformed Products

1) Protection - Thermoformed products are semi-rigid. They can help protect your products from impact, dust, sun, moisture, and other environmental factors.
2) Attractive Style - Thermoformed products have a smooth, contoured, wrinkle-free look. Stylish hardware and artwork can be added for styling and additional visual appeal.
3) Custom Fit - Products can be molded into the exact shapes desired for your components. Also, die cut foam or molded plastic inserts can be added for extra protection of instruments. Dedicated instrument cavities can also be formed into the product.
4) Light Weight - Thermoformed products are easily transported.
5) Lower Tooling Cost - In most applications, thermoformed product tooling is less expensive than blow molded or injection molded tooling.

For more information about our thermoforming capabilities, please contact Angela Goodrich or visit our web site at http://www.polocustomproducts.com/thermoforming.htm.

About Polo Custom Products - Polo has over 50 years experience in custom manufacturing. Polo specializes in custom industrial sewing, radio frequency sealing, and thermoforming using flexible, pliable materials such as vinyl, nylon, urethane, many aramid fabrics, Teflon, leather and many other fabrics and films. We supply custom sewn, sealed and thermoformed products to several OEM markets including medical, safety, outdoor, and industrial.

More from Cleaning Products & Equipment