Polishing Machine Manufacturer Wins Queen's Award for Innovation 2011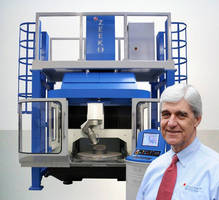 Zeeko succeeds with its integrated polishing and measuring machine

A privately owned manufacturer of computer-controlled polishing machines for producing astronomical telescope mirror segments, compact camera lenses, medical implants, plastic injection moulds, semiconductor wafers - indeed any product that requires an ultra-precision polished finish - is one of this year's winners in the Innovation category of the Queen's Awards for Enterprise.

Based in Coalville, Leicestershire, Zeeko is a world leader in designing and building machines for the polishing of high-precision, freeform surfaces. These are surfaces with complex axes of symmetry, or no symmetry at all and are required in an increasing number of applications in a wide range of materials. They vary in size between 1 millimetre to several metres across.

Managing director Richard Freeman, who co-founded the company in late 2000, commented, "All members of the Zeeko team can feel justly proud to receive this coveted award. The criteria for entry are ever more challenging and the passion to win ever more fervent.

"The product must not only represent a significant technological advance but must also have achieved commercial success. Clearly in the view of the Queen's Awards judging panel, we scored well on both counts."

Optic Fabrication Centre

Zeeko's winning entry was its Optic Fabrication Centre, a corrective polisher with integrated measuring capability. For the first time, it allows the user to progress a precision component from start to finish without removing it from the machine for any reason.

The innovation has led to a significant reduction in end-to-end optic fabrication time with a commensurate reduction in manufacturing cost.

The new machining and polishing centre can be supplied as a bespoke solution with the most appropriate accessories fitted in the way you might specify the requirements for your next PC. Amongst the accessories available are many different measurement technologies, a temperature controlled enclosure, component support solutions and several different polishing technologies. A truly one-stop solution that is based on a core Zeeko polishing machine platform employing the renowned and industry-leading Zeeko Precessions software suite.

Original drivers included E-ELT

Two specific projects were behind the original development of the Optic Fabrication Centre. One was a need to polish X-ray telescope mandrels, which at the time were one of the most challenging polishing applications that Zeeko could identify due to the low slope errors permitted (0.5 arc seconds) coupled with the need for extremely high surface texture in the 1 to 2 Angstrom level.

The other project was the production of optics suitable for segmented, extremely large terrestrial telescopes, requiring tight control of very large radii of curvature. Other prerequisites were excellent surface texture and form control over large surface areas of approximately 2.5 sq m for each segment.

In this connection it is noteworthy that, together with Richard Freeman, the other co-founder of Zeeko was Professor David Walker, researcher professor for Glyndŵr University and UCL. He leads the prototype project for the world's largest optical telescope, the 42 metre diameter European Extremely Large Telescope (E-ELT). When it becomes operational in Cerro Armazones, Chile, currently scheduled for 2018, the Euros1 billion instrument will be 30 times more sensitive than current optical telescopes.

Researchers at the Welsh Government-financed building known as The OpTIC Technium in St Asaph, North Wales, where Zeeko Research is also located, are currently using an Optic Fabrication Centre to produce seven prototype hexagonal mirror segments under a Euros5m contract from the European Organisation for Astronomical Research in the Southern Hemisphere (ESO). There will eventually be 984 such mirror segments forming the E-ELT mirror, which will be mounted on an active support structure.

About Zeeko

In 10 years, Zeeko has grown from three to more than 40 employees, including those at US sister company ZeekoTechnologies LLC, Indiana, and seven new recruits in Japan where Zeeko KK has recently been formed. Sales of £6.6 million were secured in 2010, all in export markets, double the previous year. Some 23 per cent of turnover is invested annually in continuous research and development.

The headquarters is currently in Coalville, Leicestershire, although the company plans to move in 2012 to a purpose-built, 20,000 sq ft, freehold premises on the Leicester Science Park, next to the National Space Centre in Leicester, representing an investment of £2 million.

ZEEKO Ltd, Unit 4, Vulcan Court, Hermitage Industrial

Estate, Coalville, Leicestershire, LE67 3FW, UK.

Tel: +44 1530 815832. Fax: +44 1530 839631.

E-mail: avni.sondagar@zeeko.co.uk

Web site: www.zeeko.co.uk

Press contact: Avni Sondagar, Marketing Assistant.

THE RIGHT IMAGE Ltd,

PO Box 42, Twickenham, TW1 1BQ, UK.

Tel: +44 20 8891 0603.

Mob: +44 7789 274817.

E-mail: therightimage@aol.com

Contact: Chris Wright.

More from Architectural & Civil Engineering Products