Plain Bearings Offer Design Engineers a Low Cost Alternative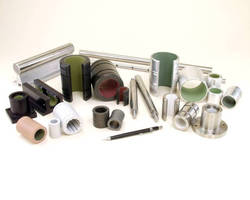 E. Longmeadow, MA - Plain bearings from LM76 employ advanced PTFE polymers, ceramic, and specialty composites for linear and rotary applications to meet motion system designers' demanding requirements. These quiet, low cost bearings, in many applications, prove a superior alternative to traditional linear bearings. Chemically resistant, these plain bearings thrive in high load, harsh environments, high speed linear/rotary, rapid oscillation, high impact, and shock. They are FDA/USDA compliant, and can be washed down with water, high pressure steam, strong disinfectants, and caustic foaming agents, and they are approved for direct food contact. These bearings are ideal for use in: Food processing and packaging, medical products, and pharmaceuticals manufacturing, robotics, assembly equipment, construction equipment, and marine applications.

LM76 also provides RC 60, 300 series stainless steel, and ceramic coated shafting, as well as pillow blocks and flange blocks in aluminum, ceramic coated aluminum, and stainless steel. Additionally, custom blended polymer bearings can be ordered for extreme applications such as high heat.

The self-lubricating Minuteman Series bearings are drop in replacements for traditional linear ball bearings. They are available in inch sizes up to 4.00 inches, are light weight, chemically inert, and ideal for highly contaminated environments experienced by construction machinery.

The LM76 Ceramic Coated Series of plain bearings easily handles high speed applications and loads up to 10X that of linear ball bushing bearings.

The FDA/USDA compliant plain bearings from LM76 include: "Washdown Rated" self lubricating PTFE bearings in 304 stainless steel shells in diameters from ¼ inch to 1.5 inches. The FluidLine Linear Motion BearingsTM, are self lubricating, low friction, lightweight plain bearings that are designed for applications requiring FDA/USDA and 3A compliance.

The LFG Series of plain bearings features a glass epoxy shell and Minuteman polymer liners for high load, high impact, high shock, and high vibration applications.

Founded in 1976, LM76 has been a leading designer/manufacturer of linear bearings, slides and linear motion systems. LM76 is renowned for its industry leading Minuteman Teflon® Composite linear bearings. LM76 is a leading supplier of precision linear shafting: RC60, 300 Series Stainless Steel, and ceramic-coated aluminum shafting. LM76 also offers several FDA/USDA compliant linear bearings and slides for the food processing, pharmaceutical, medical, and packaging industries.

For additional information, contact
Mike Quinn
at: LM76,
140 Industrial Dr.

E. Longmeadow, MA 01028;
Telephone: 413-525-4166,
Fax: 413-525-3735
or E-Mail: mquinn@lm76.com
or visit the Web site at: www.lm76.com.

More from Electrical Equipment & Systems