PIRTEK O'Hare Replaces 270 Hose Assemblies on Freight Loaders at the O'Hare International Airport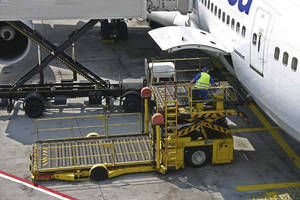 Have you ever wondered how long it takes to manufacture 270 hose assemblies? Recently, Mike Riefke Jr., Mobile Sales and Service Technician, and Adam Riefke, Shop Assistant at PIRTEK O'Hare answered that question for us.

Recently, Mike was at the right place at the right time when he made a regular visit to a customer at the O'Hare International Airport. The customer operates freight loaders, air plane push-backs as well as many other airport services around the world. The timing of the visit worked out for both the customer and PIRTEK, because the customer was in need of replacing the hoses on three of its freight loaders. Since PIRTEK O'Hare had completed work for the customer in the past, they had the confidence that PIRTEK could get this job done right, the first time!

Each freight loader had 90 hose assemblies that needed to be removed and replaced. One requirement the customer had was to complete one freight loader per day, bringing the completion of 270 hoses assemblies in just three days!

Since the job required so many hoses assemblies, PIRTEK O'Hare's
Shop Assistant, Adam Riefke joined Mike at the air field. In addition, the customer recruited two of its own employees to remove each hose assembly as Mike and Adam manufactured and installed the new ones.

"Measuring 90 hose assemblies a day is a tough job for just one person, not to mention kneeling on the ground most of the day to measure each new hose," says Mike, "Thanks to the support of our team at PIRTEK O'Hare, we were set up with a long trough on sawhorses so we wouldn't have to be on our knees for three days and were able to get the job finished on time."

After the re-hose project was finished, PIRTEK O'Hare had invested 24 hours into it with a job well done and a very happy customer. The freight loaders were then shipped to another location in Toronto. The customer expects the same project of another three loaders, two of which are coming from Washington D.C., in the near future. Mike is encouraged with the course of business and is charging ahead with other customers in the meantime.

More from Machinery & Machining Tools