Phottix and Omegabrandess are Proud to Launch the BP-5DIII Multi-Function Battery Grip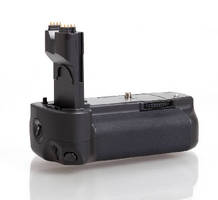 Hampstead, Maryland - The Canon 5D Mark III is as popular as its older siblings. Phottix is proud to launch the BG-5DIII Multi Function Battery Grip. Available now, it holds one or two LP-E6 or 6 AA batteries and features AF/On, FEL and AF Points Buttons, vertical shutter button, command dial and power switch.

The BG-5DIII also provides a comfortable vertical shooting position with an additional shutter release and scroll wheel for easy access to the camera functions when shooting in the vertical orientation. The grip also has a tripod socket.

The BG-D800 comes with:

BG-5DIII Grip

Battery Holder for 6x AA batteries.

Battery Holder for 2x LP-E6 batteries

User's guide

Pricing

The manufacturer's suggested retail price for the BP-5DIII Multi Function Battery Grip for the Canon 5D MKIII DSLR is $129.99 USD.

About Phottix

Phottix is an international company specializing in photography accessories, committed to developing an expanding line of original and innovative products for photographers. Phottix has established a high level of brand name recognition with retailers and customers because of the design, quality, and pricing of their unique accessories.

About OmegaBrandess

OmegaBrandess has manufactured and distributed photographic and imaging products for over 75 years. A privately held company, OmegaBrandess supplies the photography industry with over ten thousand products from dozens of branded lines. For more information about OmegaBrandess and its represented brands, call 410-374-3250 or visit www.omegabrandess.com.