Permanent Magnet Stepper Motors from Astrosyn Available in Low Volumes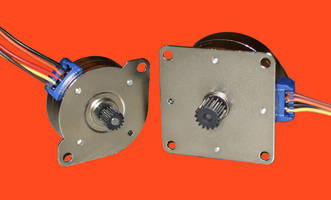 A wide range of high performance permanent magnet stepper motors has been introduced by motion control specialists Astrosyn International Technology.

The use of PM stepper motors offers manufacturers the advantages of simple construction, high thrust and low price. However, unlike with most permanent magnet devices, minimum order quantities from Astrosyn can be as low as a few hundred pieces.

Another advanced feature of the motors is that step angles range from 18 deg to as small as 1.8 deg for the largest models, a resolution normally seen only with hybrid stepper motors.

Outside diameters range from as small as 6 mm through to 55 mm. Several different models are available within each frame size.

Applications are expected in a broad range of sectors, including office automation, laboratory instruments, water dispensers, ice makers, gaming machines, textile machinery, mobile phone transmitters and gas valves.

Extra protection to the motors' sleeve bearing is provided by a patented end cap on the front flange.

Permanent magnet stepper motors from Astrosyn are available in low minimum quantities.

More from Agricultural & Farming Products