Pepperl+Fuchs to Unveil First Wireless HART Products at 2009 Hanover Fair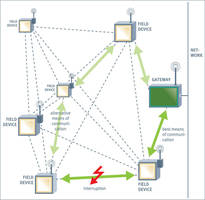 TWINSBURG, OH- Pepperl+Fuchs, a leading company directly involved in driving the development of the WirelessHART communication standard, will be unveiling its first WirelessHART enabled products at the 2009 Hanover Fair, April 20-24, 2009. Introductions will include a robust WirelessHART gateway designed for the demanding operating conditions typical of the process industry, a WirelessHART adapter designed to add wireless functionality to practically any conventional field device, as well as a self-contained WirelessHART temperature sensor.

"The introduction of the wireless version of the HART protocol has provided the process world with a vital standard to enable all wireless field devices to communicate in the same language. With these new products, Pepperl+Fuchs' initial aim is to help provide additional monitoring functions in existing process plants that would otherwise be impossible without the use of wireless communications," says Robert Schosker, Pepperl+Fuchs Product Manager.

Generally speaking, WirelessHART is an extension of the existing HART communications protocol. This means that the new standard is based upon a proven technology with an installed base of more than 20 million field devices worldwide.

Pepperl+Fuchs' WirelessHART gateway will comply with the special requirements for operation in the Ex zone and offer a RS485 interface, as well as an Ethernet interface for digital HART signals. Configuration will be possible via DTM, DD or built-in web server connectivity. Models for Profibus and Foundation Fieldbus will be available at a later date. Its WirelessHART adapter will be able to obtain real-time signals from a measuring device or sensor at adjustable time intervals, and transfer them to the control system via wireless communication. The WirelessHART temperature sensor will be able to be positioned at any location within the plant, and will be able to transfer up to two temperature values to the process control system.

"Pepperl+Fuchs has been actively involved in the development of this standard right from its inception. When it was presented for the first time by the HCF at ISA 2006 in Houston, Texas, Pepperl+Fuchs was the only vendor to have available a prototype of a fully functioning WirelessHART gateway. It follows that we will also be among the first companies to offer commercially available WirelessHART products to the global process market at the 2009 Hanover Fair," says Schosker.

Less wiring, lower costs
Typical applications for WirelessHART are parameter setting of field devices, and monitoring of uncritical process values and environment data. In this field, wireless communication is the enabling technology of a completely new range of applications that include performance monitoring, environment management and effective asset management with preventive maintenance strategies.

Comparable to traditional wire-based HART communication, WirelessHART allows the integration of fixed process instruments, mobile field devices, temporary installations, and remote sections of a process plant into the very same communications infrastructure. A major advantage is that WirelessHART communication does not require any costly cable installations, and it enables users to monitor specific process parameters at locations where it has historically been impossible to do so.

About Pepperl+Fuchs

Pepperl+Fuchs has nearly 4,000 employees in more than 30 countries and is a world leader in the design, manufacture, application and support of a broad range of automation solutions. Pepperl+Fuchs is the market leader for intrinsic safety interfaces and hazardous location equipment. Our FieldConnex® fieldbus installation system for Profibus and FOUNDATION fieldbus provides maximum flexibility to modern process automation applications.

Additionally, P+F's Bebco EPS purge & pressurization systems provide rugged protection for any type of instrumentation. This comprehensive range of explosion protection systems and interface equipment is complemented by technologies such as EXTEC visualization & operation systems, as well as on-line corrosion monitoring transmitters and level sensing instruments.

Technical Contact:
Robert Schosker
330.486.0002,
rschosker@us.pepperl-fuchs.com

Pepperl+Fuchs,
1600 Enterprise Parkway,
Twinsburg, OH 44087;
(330) 486-0002;
fax: (330) 425-4607;
pa-info@us.pepperl-fuchs.com;
pepperl-fuchs.com.

Related