Instrument / Tool / Equipment Cases
Pelican Products and Air Techniques International Team Up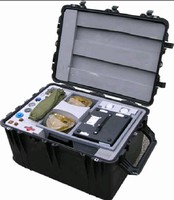 for Airborne Attack Preparedness

TORRANCE, CA - September 12, 2006- Pelican(TM) Products' high-impact, watertight Protector(TM) Cases have been chosen to house the Air Techniques International - Portable Joint ServiceMask Leakage Tester (JSMLT) equipment.

"In this day and age, homeland defense is on everyone's minds and we are proud that our
incredibly tough cases are housing a product that could save so many lives in the event of an attack," said Mark Rolfes, Pelican's Vice President of Sales.

"The JSMLT is all about providing military personnel and first responders with peace of mind and confidence that their masks will protect them when they need it," said Eric Hanson, President of Air Techniques International. "And the Pelican Case, with its legendary toughness and quality, is the logical choice to protect our equipment."

o The cell-core wall construction of Pelican Protector Cases protects sensitive equipment from some of the most extreme conditions on Earth. Special stops are also molded into the case walls to accommodate panel frames and interface panels
so that the case itself becomes a chassis. Additional standard features include a lid equipped with a polymer o-ring for a dust/watertight seal, and an automatic Gore-Tex® pressure equalization valve. To ensure easy and immediate access, most cases in the line feature double-throw latches that have been tested to a failure threshold of nearly 400 pounds, but open with a light pull. Of course, Pelican Protector Cases can be spotted by their distinctive, trademarked "Dual Band" design.

o Joint Service Mask Leakage Tester (JSMLT) - Is a mobile protective mask integrity testing unit that sets up in minutes and performs six separate tests to confirm individual fit and to detect leaks in protective masks that the naked eye can't see. It sports an easy-to-use touchpad and digital display screen and two headform
sizes so virtually all masks can be tested. Masks do not have to be worn while the short six-minute series of leakage tests are performed.

As with all Pelican products, their cases are backed by a Legendary Lifetime Guarantee of Excellence: "You break it, we replace it...forever."(TM)

About Pelican
Pelican is a leading manufacturer of OEM and equipment protection solutions. Their high-impact, watertight Protector(TM) Case line is among the toughest, lightest and most dependable on the market and backed by a legendary Unconditional Lifetime Guarantee of Excellence - "You Break It, We Replace It...Forever." For more information regarding Pelican Products, contact them at 23215 Early Ave., Torrance, CA 90505. Phone: (310) 326-4700 or (800) 473-5422 (Outside CA), Fax: (310) 326-3311, www.pelican.com,
commercialsales@pelican.com.

About Air Techniques International
Since 1961 Air Techniques International (ATI) has been the leading designer and manufacturer of specialized test equipment for high efficiency particulate air (HEPA) filters, ultra low penetration air filter (ULPA) media, filter cartridges and respirators used by virtually all government, military and commercial organizations
worldwide. ATI is considered a leader in our core technologies of aerosol generation and forward light scattering photometric detection. In addition, ATI is ISO 9001-2000 certified. ATI manufactures a comprehensive line of test equipment from small portable units for on-site certification to the largest systems used by major producers and testing laboratories for testing filters and respirators. They also specialize in the
design and manufacture of customized equipment for research, testing and quality assurance of air filtration systems. For more information contact them at 11403 Cronridge Drive, Owings Mills, Maryland USA 21117-2247- Phone: 410-363-9696 - Fax: 410-363-9695 - info@atitest.com - www.atitest.com.

All trademarks and logos displayed herein are registered and unregistered trademarks of Pelican Products, Inc. and others.

More from Electrical Equipment & Systems