Parker's Formed Diesel Fuel Tubing with SAE J2044 Quick Connect Fittings Reduces Scrap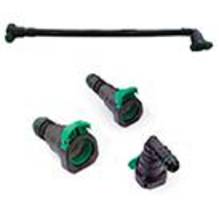 New FLR tubing to be displayed and featured at IFPE2017 in Parker Booth #S-8242
RAVENNA, Ohio, January 16, 2016 - The Parflex Division of Parker Hannifin Corporation, the global leader in motion and control technologies, is expanding its diesel fuel tubing offerings to include FLR tubing with SAE J2044 quick connect fittings. FLR tubing is a light-weight, diesel fuel tube that can be configured as a straight or preformed shape. The quick connect fittings allow for a quicker connection without clamps and because this tubing is available preformed, it allows for snap-in assemblies with no scrap. The fittings incorporate Parker's Safe-Lock™ exclusive locking mechanism, for a secure connection that minimizes leaks.
This product is used in general diesel and biodiesel fuel applications in temperatures up to +239°F (+115°C). Assemblies are available with 3/8", 1/2" or 5/8" quick connect fittings.
Key performance-based features and benefits include:
• Utilizes SAE 2044 quick connect fittings
• Easy to assemble
• Heat and UV stabilized
• 100% pressure tested
• Light weight
• Pre-formed tubes available
Tested to SAE J2045 liquid and vapor specifications
Parker's FLR tubing will be on display in Parker booth #S-8242 at IFPE2017, March 7 - 11. For additional information, contact Ryan Kyker, product sales manager, at rkyker@parker.com or call 330-296-1406.
 About Parker Parflex Division
Based in Ravenna, Ohio, the Parker Parflex Division manufactures a wide variety of thermal products, including Thermoplastic and PTFE hose and tubing for the most extreme applications on the planet. In addition to standard hose and tubing products, Parflex engineers solutions for diverse applications, including construction, aerial lift and agriculture equipment.
About Parker Hannifin
Parker Hannifin is a Fortune 250 global leader in motion and control technologies. For 100 years the company has engineered the success of its customers in a wide range of diversified industrial and aerospace markets. Learn more at www.parker.com or @parkerhannifin.
More from Electrical Equipment & Systems