Packsize Presents iQ3 Custom Packaging Machine as Competitive, Ship-from-Store Retail Strategy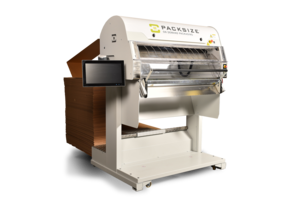 Premiering at EastPack 2017 in NYC, the iQ3™ On Demand Packaging® System is Sized Right for Retailers Facing Online Market Disruption
SALT LAKE CITY - June 13, 2017 - Packsize International today announced the immediate availability of the iQ3™ On Demand Packaging® machine. This next-generation iQ Series system from Packsize minimizes operating, material, and shipping costs from a machine footprint of only 62 square feet, including the z-Fold® corrugated bale(s) from which the boxes are made.
The increase in demand for products online has led to the expansion of the e-commerce market, resulting in increased usage of corrugated packaging for the shipment of products sold. Brick-and-mortar stores are also under pressure to remain profitable. The iQ3™ custom box-making machine gives retailers with real estate and others struggling to manage the increasing volume of online orders an effective ship-from-store strategy.
By producing minimal, 100 percent recyclable corrugated packaging that protects against damage, the system also addresses the continued trend toward lighter weight and decreased shipping volumes. For any retailer wanting to deliver the ultimate seamless brand experience, the iQ3™ reliably produces right-sized boxes that delight customers, reduce waste, and minimize costs throughout the supply chain.
Adding to the space-saving design of this automated packaging system are two integration options that increase the machine's portability and flexibility in dynamic fulfillment environments. The iQ3™ allows for an onboard air compressor that eliminates the need for air drop connections, as well as the newly available GL3™, an operator-friendly, box-sealing device that provides additional workspace utility and convenience.
Contact [email protected] for information on how to turn any space into a smart On Demand Packaging® environment or visit Packsize at EastPack 2017, Booth #3038.
About Packsize® International LLC
An award-winning supply chain and sustainable packaging industry leader, Packsize® International offers right-sized packaging, on demand, for the corrugated marketplace. Learn why leading brands embrace Smarter Packaging for a Healthy Planet® at www.packsize.com.
Packsize International
3760 W Smart Pack Way
Salt Lake City, UT 84104
Phone: 8014402009
Contact:
Melissa Clyne
Director of Corp. Communications and Marketing
email: [email protected]