P-80 Emulsion Pump and Seal Lubricant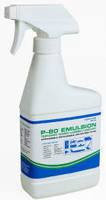 P-80® Emulsion is the perfect solution for pump and seal assembly. P-80® Emulsion is a ready-to-use assembly aide that makes rubber and soft plastic easy to install, remove, cut or manipulate. It allows rubber parts to slide easily into place and stay there, securing a tight fit.



The benefits of P-80® Emulsion:



Eases parts into place.

Reduces damage to parts.

Temporary – Once dry the lubrication is gone.

Alcohol free – will not dry out rubber or otherwise impair its performance.

Non-toxic and biodegradable.

Ready to use, requires no mixing.

Silicon, Petroleum and Solvent Free.



Rubber is a core material used in manufacturing. It's inherent qualities make it the first choice for mountings, bumpers, seals, protective boots, belts, bushings, o-rings and hoses, just to name a few. Unfortunately, rubber's non-slip surface often makes the installation, removal, and general manipulation of rubber components a difficult task. Tight-fitting rubber components can slow production and affect quality and safety.



The assembly of rubber parts should be evaluated at the design stage to take into consideration the assembly process and the excessive force that may be required to position them. This may result in damage to the parts themselves, damage to the surrounding area, or a poor fit. The traditional solution is to lubricate parts during assembly. However, some lubricants leave residues that may result in functional, health and safety, or aesthetic problems.



For this reason, International Products Corporation has developed a line of P-80® temporary rubber lubricants that allow rubber parts to slide easily into place and stay there. P-80® Lubricants are temporary in nature as a result of their chemical composition. They provide a high degree of lubricity when wet, but because they do not contain any silicon or other persistent ingredients, once they are dry there is no slippage.



Once applied, the water in P-80® evaporates and the oils are absorbed into the elastomer. As this evaporation/absorption process progresses, the lubrication diminishes, and when complete, the assembled part is dry to the touch and does not slide apart. No lubricity or greasiness returns, even in moist working environments, and the functionality and appearance of treated parts are unaffected. P-80® can also be used to lubricate rubber parts that are being cut or formed.



People working with rubber parts are often injured as a result of the force used in assembly. P-80® lubricants can substantially reduce the pressure needed to complete an assembly job, thereby improving worker safety. For example, a hose-to-cap fitting that originally would have taken 100 pounds of pressure to install, requires only 30 pounds of pressure when P-80® is used. This dramatic reduction of friction lessens the impact on workers' hands and the likelihood of slippage-related injuries.



P-80® also improves product quality. It minimizes the force needed to assemble rubber and decreases the chances of a part or its surrounding area being ripped or otherwise damaged during assembly. Using P-80® can improve rubber assemblies, speed up productivity, reduce waste, and help to ensure a high-quality end product.



Unlike many other lubricants, P-80® products are water-based, non-toxic, non-flammable, easy to dispose of and ready to use. P-80® is NFPA-rated at 0-0-0 and contains negligible VOCs. Spills can be cleaned up with a cloth or sponge.



Only a small amount of P-80® is needed to achieve the required lubricity, and all products are available in multiple sizes, ranging from tubes to drums. P-80® is available in four different industrial formulas, as well as two additional formulas that are registered with NSF as H1 lubricants approved for incidental food contact applications.



All P-80 products are manufactured in the USA by International Products Corporation (IPC) and are readily available worldwide through a network of global distributors.

Contact IPC for a free P-80® sample kit by visiting www.ipcol.com or email sample@ipcol.com.



P-80 Emulsion is available to purchase online.





Related