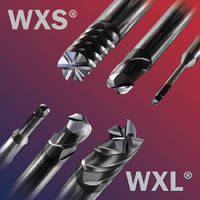 OSG is creating "Milling Evolution" with the new EXOCARB - WXL(TM) and WXS(TM)! The evolutionary, brand-new substrate, geometry, and coating have led to new benchmarks for productivity and tool life.

The WXL(TM) is 3x's more durable in wet and dry applications. Plus the WXL(TM) can handle a wide range of materials with 3x's greater wear resistance. The WXL(TM) has a new substrate that was developed for greater wear resistance and designed to create stronger coating adhesion properties. This leads to significantly less chipping of the coating, even after excessive usage in hardened steels up to 50 HRC. WXL(TM) was developed to have a higher oxidation temperature, lower coefficient of friction, and higher hardness, compared to the TiAIN coating. This new coating permits higher speeds and longer life, in both non-ferrous materials and hardened steels. WXL(TM) also has improved geometry which features 5 micron radius accuracy on ball mills and 0.05 micron T.I.R. accuracy on all shanks. This permits a more stable milling at elevated speeds.

Hard milling just got easier with the expansion of the WXS(TM). WXS(TM) is now offered in new sizes:

List 4440: (Square, Regular Length, Multiple Flute) Entire new fractional size offering!

List 4410: (Ball Nose, Regular Length, 2 Flute) Entire new factional size offering!

List 4592: (Rib Processing, Corner Radius, Stub Length, 2 Flute) Entire new metric size offering!

Also, the patented nano-technology coating on the WXS(TM) increases productivity and tool life versus TiAIN coating in materials up to 70 HRC. The WXS(TM) coating has a higher oxidation temperature to permit higher spindle speeds, which leads to faster cycle times. WXS(TM) also has an increased SFM, which leads to more heat generation to improve surface lubricity and extend tool life. The WXS(TM) tools also have an improved substrate allowing for increased adhesion strength, which in turn reduces the likelihood of chipping.

More from Electronic Components & Devices