OnSSI Software Boosts Surveillance at Wayne County, New York Jail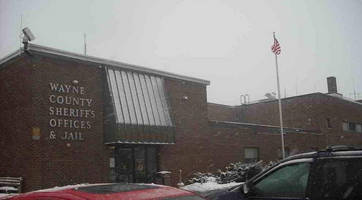 Hybrid Analog/IP System Provides Access to Video Throughout the Facility

Pearl River, NY (April 21, 2010) - Facing the need for a scalable system with video recording and archiving, the Wayne County, New York, Office of the Sheriff has updated their county jail's video surveillance system with a hybrid analog/IP system that includes Ocularis Recorder NetDVMS and Ocularis Client software from OnSSI. Ocularis(TM) makes it easy for jail personnel to access video and recordings at almost every workstation on the network, and can expand as the facility and need grows.

The old system used black-and-white cameras controlled by a matrix switch and had no recording or archived video storage. Since the original system was not scalable, over the years several more small systems had been added. With the new system featuring Ocularis and NetDVMS software, Wayne County has a scalable platform that provides the video storage they need along with real-time views of inmates, visitors and personnel. The Sheriff's Office is also planning to use OnSSI to replace outdated map control boards completely so they will be able to control all functions with the Ocularis platform.

"Wayne County's forward-thinking approach is creating a system that will serve them well into the future. They've really embraced the ability of IP technologies to deliver vastly improved functionality," said Gadi Piran, OnSSI's President and Chief Technology Officer (CTO). "In choosing OnSSI, Wayne County is going to leverage the value of video to mitigate liability issues related to disputes with inmates and boost the effectiveness of security and building management."

Jerry Boublis, Sales Engineer for Securitronics, worked closely with Sheriff Barry Virts and Major Lester Carr to understand their needs and then called on the additional
expertise of product engineers and sales reps to design the system. Adam Williams,
Sales Representative for The Atkins Group, provided conceptual design, specifications,
commissioning for the completed project and client training.

The Wayne County Office of the Sheriff acknowledges the contributions of the County's
IT (Matt Ury) and Building and Grounds (Dave Sloane and Rick Brinkman) Departments. Buildings and Grounds Assistant Supervisor Jon Allen coordinated meetings and insured that specifications and timelines were met. Russ Hartranft of Wayne County IT coordinated network interface and workstation software installation.

Randy Kise of Wayne County Building and Grounds installed new cabling as needed. Mike Roth was job foreman for Securitronics, assisted by technicians Bob Zachmeyer and Tom Smelt.

For more information on OnSSI, call 845-732-7900, e-mail info@onssi.com or visit
www.onssi.com.

About OnSSI

OnSSI offers the industry's most comprehensive IP video surveillance control and management solution. Ocularis(TM) is a unified platform with unprecedented levels of userintuitiveness, open architecture and scalability. Our clients are able to choose best-ofbreed components; combined in any configuration for any size application, enabling all users to realize significant productivity and performance improvements. With core competencies rooted in both the IT and professional security markets, OnSSI's IP solutions deliver substantial value to thousands of installations globally, in public safety, government, enterprise, industrial, and educational settings.


More from Fasteners & Hardware