Olympus Introduces Heavy-Duty, Motorized Stand for MacroView MVX10 Macro Zoom Microscope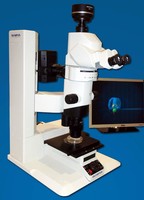 CENTER VALLEY, PA, December 2, 2007 - Olympus is introducing a new, heavy-duty motorized stand for the MacroView MVX10 macro zoom microscope. It has a large footprint and sturdy construction to provide the ultimate solution for stable, high-resolution fluorescence imaging. The optional stand is ideal for any research application where high magnifications are being used, or where fluorescent signal is low and long camera exposures are necessary.

The robust stand is designed not only for stability, but also for flexibility and convenience. With its dual-speed, motorized Z-axis travel, along with automatic escape and home positions and 10 inches of total Z-axis movement, the stand allows effortless loading and unloading of specimens on the popular MVX microscope. It accepts both manual and motorized XY stages, and has a transmitted light illumination option. The stand also has the flexibility to be used with Olympus SZX16 or SZX10 stereomicroscopes.

The Olympus MacroView MVX10 microscope system combines maximum detection sensitivity at the lowest magnifications with a high-magnification zoom for imaging fluorescence specimens at the cellular level. Observation is available at all magnifications from 4x to 252x. The first instrument of its kind available to researchers, it offers large working distances and fields of view, similar to stereomicroscopes, making it well suited for visualizing whole organisms and large tissue slices. The MVX10 can be used with any of three parfocal, high-NA objectives, for enhanced resolution and light gathering ability; in particular, its 0.5 NA, 2x objective offers ultra-high resolution for low-light fluorescence imaging of cellular features with maximum specimen protection due to shorter exposure times. Thus, the instrument combines the best features of compound and stereomicroscopes, allowing zoom macro- to micro-level fluorescence imaging of the same specimen.

For more information on the heavy-duty stand for the Olympus MacroView MVX10 microscope, contact Olympus America Inc., 3500 Corporate Parkway, Center Valley PA 18034-0610; phone Stuart Shand at 1-800-446-5967 or email microscopy@olympus.com. Visit the Olympus website at www.olympusamerica.com/microscopes.

About Olympus Scientific Equipment Group
Olympus America Scientific Equipment Group provides innovative microscope imaging solutions for researchers, doctors, clinicians and educators. Olympus microscope systems offer unsurpassed optics, superior construction and system versatility to meet the ever-changing needs of microscopists, paving the way for future advances in life science.

About Olympus
Olympus is a precision technology leader, creating innovative opto-digital solutions in healthcare, life science and consumer electronics products. Olympus works collaboratively with its customers and its affiliates worldwide to leverage R&D investment in precision technology and manufacturing processes across diverse business lines. These include:
o Gastrointestinal endoscopes, accessories, and minimally invasive surgical products;
o Advanced clinical and research microscopes;
o Lab automation systems, chemistry-immuno and blood bank analyzers and reagents;
o Digital cameras and voice recorders.

Olympus serves healthcare and commercial laboratory markets with integrated product solutions and financial, educational and consulting services that help customers to efficiently, reliably and more easily achieve exceptional results. Olympus develops breakthrough technologies with revolutionary product design and functionality for the consumer and professional photography markets, and also is the leader in gastrointestinal endoscopy and clinical and educational microscopes. For more information, visit www.olympusamerica.com.

More from Thermal & Heating Equipment