OKi Launches Carrier-Grade SIP-ALG Function in Its Session Border Controller 'CenterStage® NX3200' for NGN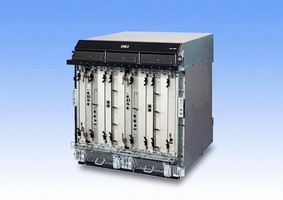 TOKYO, July 16, 2008 - Oki Electric Industry Co., Ltd. (TSE: 6703) today announced it has added a carrier-grade SIP-ALG*1 conversion function to its session border controller (SBC)*2 "CenterStage® NX3200." The newly added functionality makes it possible to seamlessly interconnect different telecom carrier networks as it mitigates the difference in communication infrastructure among carriers. The product will be available in Japan starting today.

NGN*3-based ubiquitous services are becoming a reality. To this end, interconnection among telecom carriers who offer services using video is also being realized. It is essential for telecom carriers to have an SBC that can bridge different SIPs to seamlessly interconnect their infrastructures. In March 2007, OKI launched its "NX3200," an industry-first SBC for NGN with basic carrier-grade functions including an IPv4-v6 converter for handling large amounts of traffic and transcodec function that converts large volumes of video and voice codecs to interconnect mobile and fixed networks.

Today, OKI adds an SIP-ALG function to enable seamless communication among different carriers by effectively processing large volumes of SIP messages using call processing technology, an approach with which OKI has long years of experience.

"We have positioned the NX3200 as a core system for telecom carriers in the NGN era. By adding an industry-first SIP-ALG function to this SBC, we enable seamless interconnection for telecom carriers with different infrastructures," said Masasuke Kishi, President of Network Systems Company at OKI. "Taking advantage of OKI's advanced technologies in transmitting massive amounts of video, voice and data, and its carrier-grade hardware and software technologies for NGN offering ultimate reliability, we will continue to enhance the CenterStage Series that incorporate solutions to telecom carrier needs."

[Glossary]
*1 SIP-ALG (Session Initiation Protocol Application Level Gateway)
Carriers may use their own version of IP and SIP. When different IPs (IPv4 and IPv6) are used, for example, the IP address for the SIP message also must be changed. Difference in SIP must be converted as well. SIP-ALG is a function to absorb such differences.

*2 Session border controller (SBC)
This is a controller to interconnect networks between IP multimedia subsystems (IMS). It can connect with different carries' IMS networks and terminals by absorbing the SIP (Session Initiation Protocol) differences and by conducting media conversion.

*3 NGN: Next Generation Network

About Oki Electric Industry Co., Ltd.

Founded in 1881, Oki Electric Industry Co., Ltd. is Japan's first telecommunications manufacturer, with its headquarters in Tokyo, Japan. OKI provides top-quality products, technologies and solutions to its customers through its info-telecom system business, semiconductor business and printer business. All three businesses function as a collective force to create exciting new products and technologies that satisfy a spectrum of customer needs in various markets.

Visit OKI's global web site at http://www.oki.com/.

More from Software