Circuit Board Assembly Services
OKI Delivers Flexible Printed Circuit Board (FPC) for Tomo-e Gozen at the University of Tokyo Kiso Observatory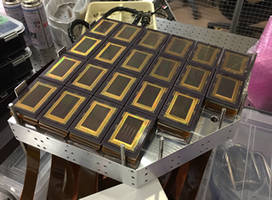 New observation system for 105 cm Schmidt telescope
TOKYO, November 14, 2019 -- OKI Electric Cable Co., Ltd., the OKI Group's electric wire and cable manufacturing company, today announced it has delivered a flexible printed circuit board(*1) ("FPC" hereinafter) to Kiso Observatory, Institute of Astronomy, School of Science, the University of Tokyo (located in Kiso-gun, Nagano Prefecture; "Kiso Observatory" hereinafter). This FPC will be connected to the ultra-high-sensitivity CMOS sensor for Tomo-e Gozen, the new observation system, which entered full-scale operation in October 2019..
Tomo-e Gozen, the new observation system, is an integrated system designed to explore changes occurring in the universe over brief time scales. It consists of the world's first wide-field video camera for astronomy and a cluster of artificial intelligence software applications. The wide-field video camera incorporates 84 ultra-high-sensitivity CMOS sensors, each requiring a wiring material featuring a detachable mounting structure and capable of being folded into narrow spaces.
OKI Electric Cable has provided various products, including the long FPC for artificial satellites developed by the Japan Aerospace Exploration Agency (JAXA) and the long high-speed transmission FPC for a world-top large infrared-optimized telescope (with a 6.5 m diameter aperture) installed at the University of Tokyo Atacama Observatory (Atacama Plateau, Chile). With a proven track record of such products in the aerospace field, where high reliability is a requirement, OKI Electric Cable also contributed to the development of Tomo-e Gozen. The most notable characteristics of an FPC are its thinness and flexibility: its electrical characteristics remain unchanged and deliver required performance even when flexed. Taking advantage of this feature, OKI Electric Cable proposed an FPC with a detachable mounting structure as the wiring material for the ultra-high-sensitivity CMOS sensor, which was finally accepted.
Tomo-e Gozen is designed to capture various universal phenomena as video data. Its full-scale operation is expected to contribute to our understanding of the unknown in the universe full of scientifically important astronomical phenomena, including supernovas immediately after their explosion and asteroids that may collide with Earth.
OKI Electric Cable is committed to proactively developing products that meet a broad range of needs, including needs in the aerospace field.
Terminology
(*1) :Flexible printed circuits (FPCs)
Bendable printed circuits.
About OKI Electric Industry (OKI)
Founded in 1881, OKI Electric Industry (OKI) is Japan's leading information and telecommunication manufacturer. Headquartered in Tokyo, Japan, OKI provides top-quality products, technologies, and solutions to customers through its info-telecom systems and printer operations. Its various business divisions function synergistically to bring to market exciting new products and technologies that meet a wide range of customer needs in various sectors. Visit OKI's global website at https://www.oki.com/.
- Oki Electric Industry Co., Ltd. and Oki Electric Cable Co., Ltd. are referred to as "OKI" and "OKI Electric Cable" in this document, respectively.
- The names of the companies and products mentioned in this document are the trademarks or registered trademarks of the respective companies and organizations.
Press Contact:
Oki Electric Industry Co., Ltd.
Public Relations Division
Phone: +81-3-3501-3835
Customer Contact:
Oki Electric Cable Co., Ltd.
Corporate Planning Office
Phone: +81-44-754-4369
Contact Form
Fumika TAKAGAWA (Ms.)
Public Relations Division
Corpolate Planning Group
Oki Electric Industry Co., Ltd.
Tel:+81-3-3501-3835 Fax:+81-3501-3924
E-mail:takagawa623@oki.com
https://www.oki.com/
More from Electrical Equipment & Systems