NIST collaborates to study composite use on bridges/piers.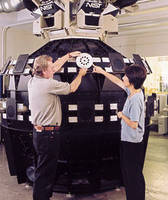 Press Release Summary: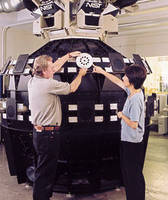 NIST and French Laboratoire Central des Ponts et Chaussees have signed an agreement to investigate implementation of fiber-reinforced polymer composites in civil infrastructure. They will share facilities and research, exchange related information, and publish joint scientific and technical reports. The first project will be to test long-term weathering effects on advanced composite materials using NIST's SPHERE, which enables prediction of material service life.
---
Original Press Release:

NIST and French Lab to Study Weathering of Advanced Composites for Bridges and Piers



The National Institute of Standards and Technology (NIST) has signed an agreement to collaborate with the French Laboratoire Central des Ponts et Chaussees (National Scientific and Technological Institute, LCPC) to investigate further the implementation of fiber-reinforced polymer (FRP) composites in civil infrastructure. These FRP composites are of mutual interest to both countries because they could be used for high-strength applications such as wind turbines or bridges and piers.

This statement of intent to collaborate is one of the first to be signed under the auspices of the "Agreement on Science and Technology Cooperation Between The Government of the United States of America and The Government of The French Republic," signed on Oct. 22, 2008. The partners will share facilities and research, exchange information on related research topics and researchers, and publish joint scientific and technical reports.

The first planned project is to test the long-term weathering effects on advanced composite materials using NIST's SPHERE (Simulated Photodegradation via High Energy Radiant Emission), a source of high-intensity ultraviolet rays that accelerates outdoor weathering of polymeric materials and composites. The SPHERE provides data on long-term exposure to ultraviolet radiation, temperature and relative humidity, which enables researchers to better predict a material's service life. For more details on the LCPC research program, see the laboratory Web site at lcpc.fr/en/home.dml.

Media Contact: Evelyn Brown, evelyn.brown@nist.gov, (301) 975-5661

Related