Nilfisk Features Sump Pump Vacuum for Metalworking Efficiency at Eastec 2015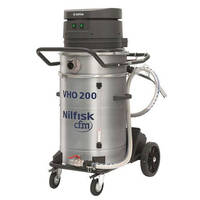 Designed for the metalworking industry, the Nilfisk VHO 200 Sump Pump Vacuum significantly cuts the time and effort required to reclaim fluids from lathes, milling machines, and cutting and grinding machines.



Nilfisk will exhibit the VHO 200 Sump Pump Vacuum at booth 3123 at the Eastec show to be held May 12-14 in Boston.



The VHO 200 collects metal shavings, oily cuttings, lubricants and coolants. It also filters out debris and pumps the purified fluids directly into the reservoir tank – all without leaving the sump. The VHO200 saves fluid replacement costs because it produces cleaner metalworking fluids for immediate reuse. It's ideal for:



• General-to-detailed cleaning



• Powder coating



• Overhead, equipment, floor wall cleaning



• Metalworking fluid reclamation



• Machine sump cleaning



For more information visit www.nilfiskindustrialvacuums.com or call 800-NILFISK.



More from Agricultural & Farming Products