Position Sensors / Detectors / Transducers
NewTek High-temperature LVDTs Serve as Reliable Retrofits to Sensors That Fail Due to Temperature Spikes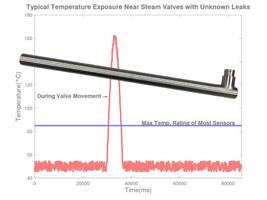 Pennsauken, NJ, April 20, 2021…The High-Temperature HATR-750 Series of LVDT Position Sensors from NewTek Sensor Solutions offers a reliable and long-term solution to sensors that fail when operating in environments with unanticipated temperature spikes. For example, steam valves in power generation plants can have undetected leaks when moving, causing periodic rises in temperatures beyond original operating specifications. Sensors not designed for temperature spikes can fail even when exposed to briefly elevated temperatures. When failing sensors are retrofit with a HATR-750 Higher Temperature LVDT, the problem goes away and operators get a reliable output of valve position.
Hermetically sealed and constructed of 0.75" diameter stainless steel, these AC-operated LVDTs operate in fluctuating temperatures from -65°F to 400°F (-54°C to 204°C) with excellent linearity, high sensitivity, and infinite resolution. Windings are potted inside the hermetically-sealed housing with epoxy for added protection against the conditions caused by harsh environments. Units also withstand shock and vibration for a consistent and reliable output.
Available in measurement ranges of ±0.05 inch (1.27mm) to ±10 inches (250mm), the HATR-750 Series Sensors are ideal for a range of industrial applications such as machine components, workpiece or valve position sensing in factory automation, assembly and power generation plants with corrosive environments. An electrical connection made through a radially-mounted connector reduces housing length so units can fit into tight spaces.
Without internal electronics, the HATR-750 LVDTs can operate in extreme environments unlike many sensors with internal circuitry. The NewTek NTC-6000 Qwik-Cal™ LVDT Signal Conditioner provides the excitation to the position sensor and converts position measurement into digital output for use by computers, PLCs, and data acquisition systems. 
Available for quick shipment, the HATR-750 Series come with a one-year warranty. For more information, refer to the website or contact Mike Marciante at 856-406-6877.
About NewTek Sensor Solutions
NewTek Sensor Solutions designs and manufactures standard, custom, and harsh environment LVDT-based linear position sensors for a variety of industries including power generation, factory automation, oil and gas exploration, aerospace/mil, chemical processing, subsea oil drilling and automotive testing. Incorporated in 2016, NewTek Sensors offers more than 200 years of cumulative LVDT design and manufacturing experience by its key staff in serving an OEM and end-user customer base. The company differentiates itself in the market by delivering high-quality, made-in-the-USA LVDTs at cost-effective price points in short timelines. www.newteksensors.com.
Engineering Contact:
Tutul Rahman, 856-406-6877
Sales Contact:
Mike Marciante, 856-406-6877
More from Fluid & Gas Flow Equipment