New Windak Products at IWCS Conference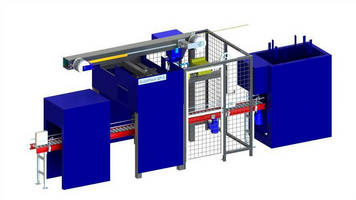 At IWCS Conference 2013 Windak will present its latest information about their NEW products such as Quickpack QP3, Automatic Coiler AC3 and brand new DCoil Package.



Quickpack is a fully automatic cable coiling and packaging machine. It's concept based on absolute simplicity and maximum out-put. It has been designed to accommodate a range of product diameters up to 7mm with maximum speed up to 8 coils per minute! It is fast and easy packaging that you never experienced before!



AC3 is a new solution for shrink film packaging of coils - DCoil Package. The Windak AC3 is a shrink filmed coil with a hole in the center allowing the user to carry the coils on the arms or be put on a rack during transport. The breakthrough development of the Windak AC3 allow for a faster coiling process than traditional coiling lines with wrapping of the coils. It is developed for 1mm-6mm single conductor and maximum 300mm OD coil size.



Windak will also show solutions for a large range of Pay-off, Take-up and other material handling and packaging machines.



Windak Inc, of USA, welcomes all visitors to IWCS Conference 2013 and our Booth 302.



More from Architectural & Civil Engineering Products