New Split Case, Double Suction Pump Features Easy Maintenance Design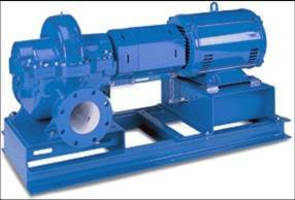 The Pump Shop in West Chester, PA introduces a new line of Split Case Pumps by Goulds Pumps.

AC Series 8300 split case pumps are Double suction, base mounted and are available in 2" through 10" sizes. Available with motor sizes through 300 HP, and flows to 6500 GPM and heads to 400 feet. Bronze fitted construction with a maximum working pressure of 175 psig. This pump features internally self-flushing mechanical seals for maximum lubrication, debris removal and heat dissipation. The internally flushed seals allow for a shorter shaft for reduced deflection for a longer seal life. The closed-end steel base plate with full seam welds for strength and open top for easy grouting. The pump bearings and mechanical seal can be serviced without disturbing the upper casing half, piping connections or electrical motor connections.

Key Features:

Short Shaft Design

Service Friendly

ANSI/OSHA Guard

Easy Maintenance Design

Service bearings & seals without removing the top casing

Internal Self-Flushing Seals

Heavy Duty Plate

About The Pump Shop:
The Pump Shop has been providing the east coast with pumps and motors for over 20 years. Our company is one of the largest stocking distributors of G&L-Goulds Pumps. We also offer engineering assistance, factory warranty service, and OEM application assistance. We distribute pumps manufactured by top leaders in the industry such as Goulds Pumps, G&L, ITT Industries, Goulds Turbine Pumps, Yamada Pumps, General Pumps, MP Pumps, Jaeger Pumps, FMC Pumps, Sta-Rite Pumps, ITT/ Marlow Pumps and ITT / A.C. Pumps (Allis Chalmers).

Please contact us for more information contact Joe Nawn, 610-436-6570, pumps@pumpshop.com, or visit our site www.pumpshop.com for additional information, flow charts and specification sheets.

More from Packaging Products & Equipment