New Press Blank Feeder/Coater From Union Tool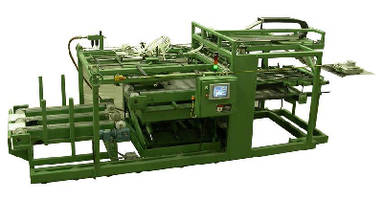 The Union Tool Corporation announces the new Press Blank Feeder/Coater for processing large steel blanks. The new feeder/coater automatically de-stacks individual steel sheets, applies lubricant and then places the coated sheet against locating pins in the die for the press operation.

Union Tool provides custom manufactured equipment for a diverse group of industries worldwide. Union Tool makes automated machines and equipment to handle and process flat sheets, boards and panels made of wood, metal, glass, plastic, fiber, foam and other materials in a conveyorized processing line.

For more information contact The Union Tool Corporation, 1144 N. Detroit Street, Warsaw, Indiana 46580. Telephone: 574-267-3211, Fax: 574-267-5703. Website: www.uniontoolcorp.com , E-mail: webinfo@uniontoolcorp.com.

More from Electrical Equipment & Systems