New Metal Bellows Accumulators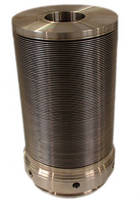 Ormond Beach, FL USA - BellowsTech, LLC has published a new product page focused on metal bellows accumulators. Used to store the energy of a liquid or gas, bellows accumulators using edge welded bellows can be manufactured in smaller sizes with added stroke length capability. Edge welded bellows are comprised of nested rippled diaphragms, so they are capable of completely compressing onto themselves. Edge welded bellows can also expand up to twenty-five percent of their free length. The bellows assembly can be pressurized both internally and externally.

With a variety of material options including 316L stainless steel, Inconel, Hastelloy, and Titanium, BellowsTech can manufacture bellows accumulators for a variety of liquids and gases. With standard diaphragm sizes of less than half an inch to over two feet in diameter, BellowsTech can manufacture a bellows to almost any customer specification.

BellowsTech uses in-house machining to manufacture tools and dies for quality control and cost effectiveness. Special guides and over-travel stops can be added to the bellows assembly to protect against pressure transients. Through BellowsTech's value added services, external housings can also be installed to make the accumulator a complete assembly.

Design of the accumulator assembly can be completed through an online design form or a downloadable PDF form.

To learn more about metal bellows accumulators, visit our website: http://www.bellowstech.com/metal-bellows/bellows-accumulators/

About BellowsTech, LLC

BellowsTech, LLC is a premier manufacturer of metal edge welded bellows and assemblies, encompassing a wide array of alloys and dimensional configurations. The flexibility of material and size of metal welded bellows as well as application expertise have led BellowsTech into industries including aerospace, medical, test, semiconductor, solar, and oil and gas. In 2007, BellowsTech was acquired by Servometer. Since 1957, Servometer has pioneered the manufacture of electrodeposited miniature metal bellows, bellows assemblies, contact springs, flexible shaft couplings and structurally rigid electroforms. Servometer miniature bellows are used in a variety of critical applications where high reliability and long-term use are required. Servometer has supported customers with quality products and technical service for over 50 years. Their unique, patented electrodeposition process has led Servometer to become the leading supplier of miniature metal bellows manufactured by this method.


More from Electronic Components & Devices