New Lumitex® Fiber Optic Illumination Technologies Solve Design Challenges for Membrane Switch & Other Applications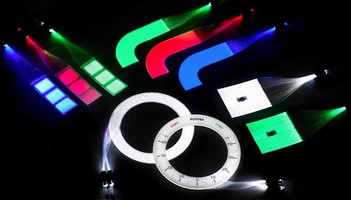 Strongsville, OH, February 2007 - Lumitex, Inc., the leading innovator in fiber optic backlighting and illumination, has introduced a family of patented new technologies that enable designers to backlight or illuminate areas that have previously been problematic or unreachable.

The new technologies are an extension of Lumitex's patented ultra-thin, extraordinarily flexible and extremely versatile UniGlo® technology, which uses optical fiber mounted on a back reflector to create lighting panels as thin as 0.013" (0.33mm). A proprietary computer controlled etching process ensures uniform light distribution with exceptional uniformity and brightness (to 75 F-L) with no heat, EMI or ESD.

The new technologies - BendiGlo(TM), HoloGlo(TM), CircleGlo(TM) and Selective Lighting(TM) - take UniGlo's ability to handle rectangles, ovals, circles, semi-circles, holes and any other unusual geometries to a new level. Now, virtually nothing stands in the way of how designers want to backlight or illuminate their designs.

The company's new BendiGlo(TM) technology is the ideal fiber optic backlighting solution for hard to reach areas in membrane switches, allowing for continuous curves around holes and protrusions such as molded components, pegs, cables or wires, using single end or lit to center techniques.

"BendiGlo can be used in areas where you would like to illuminate design variations that go beyond the typical squares or rectangles," said Walter Schulz, Sales Manager at Lumitex, "such as along a radius, for example."

Lumitex's new HoloGlo(TM) technology pre-forms the optical fiber to follow paths around and between shapes and die-cut holes while maintaining consistently uniform light in between these features by providing a continuous flow of light with or without lit to center techniques.

The new CircleGlo(TM) technology can be used in one, two or three layers for backlighting circular areas with a hole in the center for membrane switches or as an overlay to illuminate a wide variety of devices such as a dial azimuth indicator or a marine compass.

Lumitex has also introduced Selective Lighting(TM), which utilizes UniGlo® technology to create selective area panel lighting to permit enhanced, concentrated lighting for selected areas of membrane switches, keypads, nameplates.

Pricing for Selective Lighting panel units is $0.97 each in quantities of 10,000. Delivery is 4-6 weeks A.R.O. For additional pricing and delivery information on BendiGlo, HoloGlo, CircleGlo and Selective Lighting, contact Lumitex.

For more information on Lumitex's UniGlo® membrane switch backlighting, contact Lumitex Inc.,
8443 Dow Circle,
Strongsville, OH 44136.
Tel: 1-800-969-5483; 440-243-8401;
Fax: 440-243-8402;
E-Mail: info@lumitex.com.
Web: www.lumitex.com.

Reader Service Inquiries: Please forward to
Walter Schulz,
Lumitex, Inc.,
8443 Dow Circle,
Strongsville, OH 44136.
Or e-mail to Walter Schulz at info@lumitex.com.

More from Laboratory and Research Supplies and Equipment