New Littelfuse SP1003 Series Offers High-Level Electrostatic Discharge and Surge Protection in a Very Small Package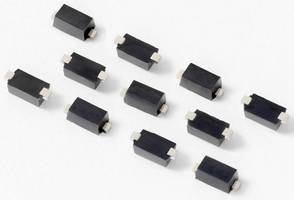 Littelfuse, Inc. (NASDAQ/NGS:LFUS), today announced the introduction of the SP1003 series SPA(TM) Silicon Protection Array, a single channel zener diode.

The SP1003 series is offered in a tiny SOD723 package (0402) and provides a high level of protection for electronic devices where miniaturization is a priority and board space is at a premium.

The SP1003 series is particularly suitable for miniature portable electronics applications such as mobile phones, MP3 / PMP players, portable navigation devices, digital cameras, portable medical devices, and similar small equipment.

The new SP1003 series is RoHS compliant and complies with the following standards:


ESD, IEC61000-4-2, ±25kV (contact), ±30kV (air)

EFT, IEC61000-4-5, 40A (5/50ns)

Lightning, IEC61000-4-5, 7A (8/20µs)

At only 30pF, the SP1003 offers minimal capacitive loading with low clamping voltages due to its very low dynamic resistance. It has a 5V reverse standoff voltage with extremely low leakage of <1µA.

Related