New Hampshire Contractor Upgrades Sweeper Fleet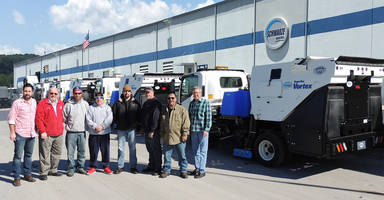 Huntsville, AL - Schwarze Industries is pleased to announce that Immaculate Power Sweeping, LLC from Pelham, NH upgraded their fleet of sweepers with 5 newly redesigned Schwarze SuperVac Vortex sweepers.
Derek Grieco, the owner of Immaculate Power Sweeping, said: "We needed sweepers with more power and larger capacity and that made the Vortex a perfect choice."
Immaculate Power Sweeping, LLC is a family owned and operated business established in 1992. With an award winning reputation for service and satisfaction in sweeping and property maintenance, their friendly, knowledgeable staff is ready to help develop a comprehensive sweeping program that suits your needs and budget.
By having a most extensive, efficient and modern fleet and expertly trained employees, Immaculate Power Sweeping, LLC offers an EPA-comprehensive maintenance program to keep your property "Immaculate."
To learn more about Immaculate Power Sweeping, LLC: http://www.immaculatesweeping.com/
For forty-three years in the street sweeping business, Schwarze Industries has been committed to providing an exceptional level of customer support. Schwarze Industries offers one of the most comprehensive sweeper lines in the sweeping business, including models for parking area cleaning, industrial sweeping, mall and shopping center sweeping, airport runway sweeping, street sweeping, milling cleanup and stormwater runoff (PM-10) management and a complete line of velocity pothole patchers, featuring the single operator/automated, Schwarze® Roadpatcher™. For additional information visit the Schwarze® website at www.schwarze.com.
More from Laboratory and Research Supplies and Equipment