New GORE® Filters Dramatically Improve Liquid Filtration Performance in Semiconductor Manufacturing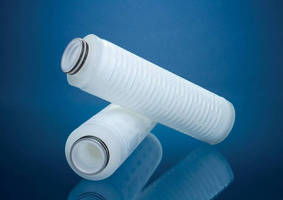 Elkton, MD (June 22, 2009) - W. L. Gore & Associates (Gore), the inventor of ePTFE and the world leader in engineered ePTFE materials, has announced a major advancement in filtration technology with the release of GORE® Filters for Semiconductor Applications. This new family of 20nm- to 100nm-rated cartridge filters for chemicals, dilute chemicals, and ultrapure water in wet process tools incorporates a new high-flow ePTFE (expanded polytetrafluoroethylene) filtration media that allows a drop-in retention upgrade from 100nm to 30nm, enabling cleaner recirculation baths, reduced processing times and significant savings in cost of ownership.

The new cartridge filters, to be introduced at SEMICON West 2009, July 14-16 in San Francisco, enable up to three times the flow compared to the next best-in-class filters, with improved performance and no sacrifice in retention. GORE® filters provide a drop-in replacement that improves retention performance, reduces particle counts, lowers operating differential pressures, reduces processing times, and enables faster bath turnovers. The filters also allow flow rates to be maintained or even increased with as few as 1/3 the number of filters used previously. The result is a significant reduction in the capital costs typically associated with process upgrades.

Gore technology has been used for decades in the world's best-performing filters for semiconductor, electronics, ultra-pure water, high-purity chemical processing and pharmaceutical applications.

About W. L. Gore & Associates

With approximately $2.5 billion in sales and more than 8,500 employees worldwide, W. L. Gore & Associates, Inc. specializes in innovations that improve the quality of life. In more than 50 years of product development, Gore has applied its world-renowned expertise to thousands of products for high-volume, cost-sensitive markets, such as automotive, energy, electronics, and industrial filtration. The company operates more than 45 facilities worldwide with headquarters in Newark, Delaware, USA. For more information about GORE® Filters, visit www.gore.com/filters or call 1-800-542-3146. Outside the US, call +1-410-392-4100.

More from Architectural & Civil Engineering Products