New Flooring Roller Coater/Laminating Equipment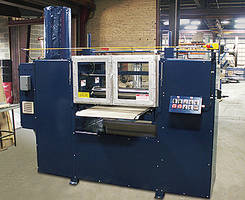 The Union Tool Corporation now offers equipment for coating and laminating a variety of flooring products. Union Tool Roller Coaters are used in the production of Luxury Vinyl Tile (LVT) as well as Engineered Flooring and Carpet. These Roller Coaters apply a controlled and consistent amount of hot-melt or water-based adhesive to LVT product to laminate a foam or backer material directly to the LVT product.
Single machines or Complete Lamination Production Systems are designed and manufactured by Union Tool. The company offers an in-house testing lab that allows customers to bring or send various flooring products and adhesives for testing on production-sized Lamination Equipment. This is a value-added service that customers appreciate.
77-year-old Union Tool Corporation manufactures automated machines and equipment to handle and process flat sheets, boards and panels made of wood, metal, glass, plastic, fiber, foam and other materials in a conveyorized processing line. Machines and equipment include roller coaters, feeders, stackers, de-stackers, hot melt applicators, laminators and lubricators. 
For more information contact The Union Tool Corporation, 1144 N. Detroit Street, Warsaw, Indiana 46580. Telephone: 574-267-3211, Fax: 574-267-5703. Website: www.uniontoolcorp.com , e-mail: [email protected].
For more information call:
Chuck Simpson
Co-President
574-267-3211