New Fireproof Enclosure Solution Saves Space and Cuts Installation Costs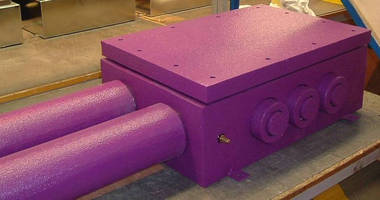 Two UK-based companies are working closely together to provide the oil, gas and petrochemicals industry with a unique fireproof enclosure solution that protects critical electrical control components in a fire up to 1,093 deg C for 30 minutes, whilst the internal temperature of the enclosure does not exceed 87 deg C.

The new fireproof enclosures, co-developed by COOPER Crouse-Hinds and Thermal Designs UK Ltd, are based on COOPER Crouse-Hinds' 316 stainless steel STB enclosure (600mm x 400mm x 220mm) that is coated externally with Thermal Designs' world-renowned K-MASS® fire resistant coating. This is the only relationship of its type in the world, whereby an enclosure or electrical junction box not manufactured by Thermal Designs, is directly coated with K-MASS®.

K-MASS® is an intumescent, moulded-on protective coating that is certified to UL 1709. Upon exposure to fire, the material begins to intumesce (expand rapidly) in response to heat by beginning a process of evaporative cooling and charring on the surface of the coating. The surface char deepens in successive layers filling voids, insulating the critical equipment within the enclosure, cooling and reflecting the heat back into the fire. This process continues until the fire is extinguished or the material is consumed.

In the presence of heat, K-MASS® expands to many times its original size. This pyrolytic reaction shileds wire insulation, solder connections, circuit boards, terminal blocks, relays and metallurgy, enabling critical control components to continue operating during the fire.

The STB enclosure from COOPER Crouse-Hinds is an ATEX-certified heavy duty junction box solution that is fully compliant with the impact, thermal and ingress protection requirements of EN50014. The STB is available in a wide range of sizes to meet a diverse range of applications.

Custom fittings are available such as cable glands, breather drains and blanking plugs. Certified components such as instrument transmitters, fieldbus modules can also be fitted to provide customers with a fully certified solution.

Andrew Bragg, General Manager at Thermal Designs Ltd comments: "For end users, installers and EPC contractors, the fireproof enclosure is a unique, very compact solution for onshore and offshore oil and gas installations, where space is at a premium. Directly coating the STB junction box with K-MASS® means that the customer's junction box doesn't have to be housed in a separate enclosure. This would take up valuable space and create further issues with regard to cabling and conduit. If the end user requires an ATEX-certified junction box that is fire-protected up to 2,000°F with K-MASS®, our single box solution is ideal."

Richard Gipp, Operations Manager at COOPER Crouse-Hinds Enclosures Division (UK) Ltd, comments: "The partnership with Thermal Designs is a great working relationship based on mutual trust and collaboration. We've already had lots of interest from oil and gas companies in the Middle East and we recently supplied 12 UL-approved fireproof enclosures for a petrochemicals plant in Saudi Arabia."

"The message we want to send out to end users, installers and EPC contractors is that enclosures or junction boxes should not be the last consideration when designing new oil refineries or petrochemicals plants, or when updating existing plant. If critical electrical control components require fire protection, then our single junction box solution saves space and minimises installation, maintenance and servicing costs."

For more information, please contact the COOPER Crouse-Hinds UK sales office on 02476 308930 or email sales@ceag-crouse-hinds.co.uk or visit www.ceag.de

COOPER Crouse-Hinds (UK) Ltd

As part of the COOPER Industries Group, COOPER Crouse-Hinds (UK) Ltd is the number one company in the field of explosion protection. Committed to technological progress, the company develops and manufactures a range of products that cover all the requirements currently placed on modern, explosion-protected, electrical installation technology, including illumination, safeguarding, signalling, controlling, instrumentation and distribution of electrical energy in potentially explosive atmospheres. In the company's production plants in Germany, England and Spain, the company manufactures a wide range of products for explosion protection.

COOPER Crouse-Hinds supplies products that comply with all the latest directives and standards - worldwide. In addition to systems and components built to ATEX Directives and European Standards, the company also provides solutions that have been certified to both IEC and NEC standards. Moreover, the company also has a large number of other national approvals, e.g. for Eastern European countries, China and North America. With COOPER Crouse-Hinds you can get all you need from one source.

Thermal Designs, Inc.

Thermal Designs, Inc. was incorporated in 1979 to produce passive fireproofing products for risk reduction for a number of the world's largest refiners. The original product, Fireproof Enclosures(TM) was custom-manufactured from ceramic fibre and stainless steel by a proprietary process still used today. This process enabled passive fire protection (PFP) of critical operating equipment for up to one hour exposure of 2,000°F (1,093°C) in Rapid Rise Hydrocarbon Fires. TDI Product development efforts require, at a minimum, that our products survive the UL-1709 "Rapid Rise Fire Tests of Protection Materials for Structural Steel".

Thermal Designs' family of products are suitable for application in almost any environment both onshore and offshore, as well as special products for application to equipment in locations such as tunnels and jet aircraft. Our products are designed based on the time / temperature requirements that the protected equipment is likely to experience as a result of hydrocarbon pool and jet type fires associated with industrial processing and handling installations. Thermal Designs utilises its own in-house UL-1709 test facility for product quality & performance certifications. TDI's products have been tested & approved by independant agencies including: Bureau Veritas, Favordale Technology Centre, Sintef of Norway, Alberta Research Council, and Southwest Research Institute. As a technology leader in PFP solutions, Thermal Designs, Inc. also represents a number of products manufactured by other manufacturers.

With 26 years of product development and application experience, TDI has become the reliable source for industrial fireproofing of critical operating equipment.

More from Fasteners & Hardware