New Cooper Bussmann® UL1953 Listed Enclosed Power Distribution Blocks Offer High Short-Circuit Current Ratings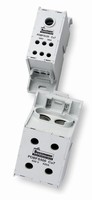 ST. LOUIS, March 1, 2007 - With high short-circuit current ratings (SCCRs) of up to 200kA, the new Cooper Bussmann® enclosed power distribution blocks are the first of their kind to be UL1953 Listed and also recognized as being IP-20 finger-safe under specific conditions. The enclosed power distribution blocks can replace low-rated power distribution blocks to achieve higher assembly SCCR, which in turn increases installation flexibility.

The 2005 National Electric Code (NEC®) requires industrial control panels, some HVAC equipment and other assemblies to be marked with their assembly SCCR. The short-circuit current rating is based on the lowest-rated component, or weakest link, in the assembly, which is typically a power distribution block with a default SCCR of only 10kA.

Typically, equipment with a low SCCR is limited to locations where only low-level, short-circuit current is available. This hinders the flexibility of where the equipment can be installed. The new Cooper Bussmann enclosed power distribution blocks offer a solution for these applications, providing high SCCRs of up to 200kA.

Its IP-20 finger-safety specification under certain conditions makes it the first UL1953 Listed power distribution block to provide both high SCCRs and improved safety. Additionally, these enclosed power distribution blocks can be used to meet the new 2005 NEC® requirement in section 376.56(B) for wireways. They can also be used in UL508A panels for both feeder and branch circuit applications.

For more information, visit our web site at www.cooperbussmann.com and click on the new products link.

About Cooper Bussmann
Cooper Bussmann, a division of Cooper Industries (NYSE: CBE), is headquartered in St. Louis, Missouri, and manufactures and markets circuit protection products globally for the electrical, electronic and transportation industries. Additional information about Cooper Bussmann is available online at www.cooperbussmann.com.

About Cooper Industries
Cooper Industries, Ltd. is a global manufacturer with 2006 revenues of $5.2 billion, approximately 85 percent of which are from electrical products. Incorporated in Bermuda with administrative headquarters in Houston, Cooper employs approximately 31,000 people and operates eight divisions: Cooper B-Line, Cooper Bussmann, Cooper Crouse-Hinds, Cooper Lighting, Cooper Menvier, Cooper Power Systems, Cooper Wiring Devices and Cooper Tools group. Cooper Connection provides a common marketing and selling platform for Cooper's sales to electrical distributors. For more information, visit www.cooperindustries.com.

More from Electronic Components & Devices