New Check Valves from ESV Offer an Easy Option to Protect Systems from Backflow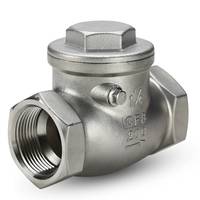 Electricsolenoidvalves.com expands their catalog to include swing check and vertical check valves.
Islandia, New York -- May 31, 2021 -- Online valve retailer, ElectricSolenoidValves.com (ESV), will now be carrying two new product lines of check valves. The company announced the new products as their customers have been looking for a solution to stop backflow within their systems.
Backflow can potentially damage equipment, contaminate media upstream, and build up pressure within a fluid control system. These new check valves from ESV provide these systems with an automatic way to ensure media flows unidirectionally.
ESV will be offering the options of swing check valves (sized ½" to 2") and vertical check valves (sized ¼" to 2"). All of these new NPT port check valves are constructed of stainless steel with PTFE seals.
The swing check valves are designed for systems that require a higher flow rate. Vertical check valves are recommended for systems where flow rate is not as significant, but flexibility of installation angles is needed and/or for those worried about possible water hammer.
About ElectricSolenoidValves.com
Electricsolenoidvalves.com is located just outside New York City. With over 20 years of expertise as a distributor of plumbing and automation products, ESV has the experience to assist customers with all of their needs. Recognizing the need for competitively priced, high quality Solenoid Valves, Electricsolenoidvalves.com has grown to be one of the largest retailers in the Solenoid Valve marketplace. From day one ESV has been dedicated to providing superiority to each and every customer.
More from Software